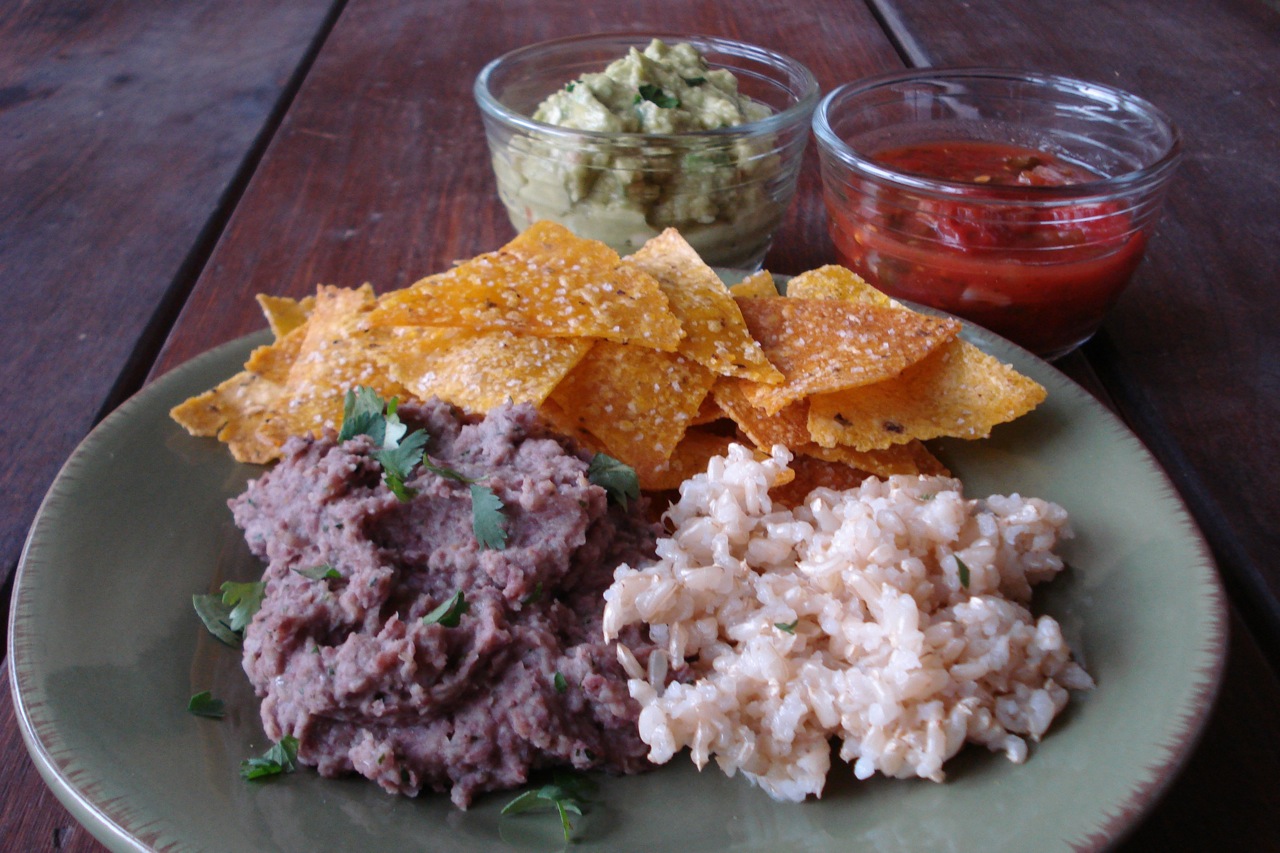 2 TBSP coconut oil, butter, or ghee
1 medium onion
6 cloves garlic, minced or crushed
1 can adzuki beans (or pintos or black beans)
1 tsp cumin
1/2 tsp pure salt
large handful of fresh cilantro (as much or as little as you want)
Heat oil over medium low heat.
Add onion & gently cook about 10 mins, stirring frequently until onion is slightly browned.
Add garlic & saute about 2 mins.
Add beans, cumin & salt & cook a few mins longer.
Transfer mixture to food processor or blender, add cilantro & puree until smooth.
Garnish w/ extra cilantro if desired.
______________________________________________________________________________________
SIDE NOTES

:

~ We all love mexican night & this bean dish is my own, personal concoction.

~ I like using my small food processor to quickly chop up the garlic.

~ Make twice this amount to serve a family of 4 with a little extra.

~ Served here with SPROUTED-CORN-TORTILLA-CHIPS, rice and guac.

~ Can't give you an exact recipe for the guacamole, as it's one of those things that's always just thrown together w/o measuring. In general, here's what you need – A couple of ripe avocados, a few squeezes of lime juice (I substitute lemon juice if needed), 1 or 2 minced or crushed garlic cloves, a handful of fresh cilantro, a few dashes of sea salt, and a dollop or 2 of your favorite salsa. Mash everything up together & enjoy.

 For those with various food restrictions

, this recipe falls into the following categories:

Dairy Free, Gluten Free, Egg Free, Nut Free, Sugar Free, Grain Free, Vegan, Raw

If eating dairy free, use coconut oil instead of butter.