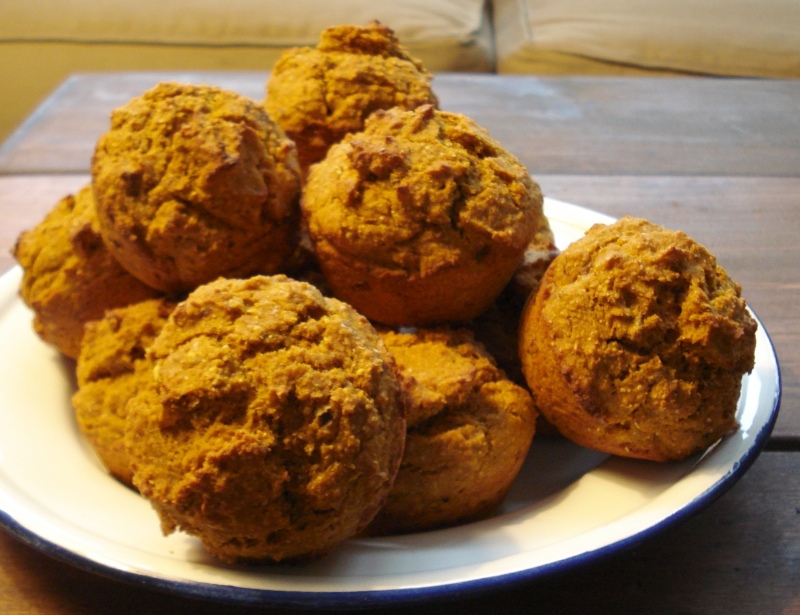 1 & 3/4 cups whole wheat flour
1/2 tsp pure salt
1/4 cup natural sugar
2 tsps aluminum free baking powder
1 tsp cinnamon
1 tsp nutmeg
2 eggs
2 TBSP melted coconut oil, butter, or ghee
3/4 cup milk (can use non-dairy)
1 cup cooked, mashed sweet potato or pumpkin (or canned)
1/4 cup chopped pecans (optional)
Preheat oven to 400.
Grease 12 muffin cups (or line w/ paper cups).
Combine the flour, salt sugar, baking powder, cinnamon & nutmeg in a mixing bowl.
In a separate large bowl, combine the eggs, oil, milk, sweet potato & pecans.
Slowly add the dry ingredients to the wet mixture, stirring until just combined.
Spoon the batter into the muffin cups & bake 20 – 25 mins or until a toothpick inserted into the center comes out clean.
______________________________________________________________________________________
SIDE NOTES

:

~ Great for a school snack. Store them in the freezer and just pull them out individually as needed.

~ If you prefer not to grease the pan, use paper baking cups ("If You Care" makes unbleached version).

For those with various food restrictions

, this recipe falls into the following categories:

Dairy Free, Gluten Free, Egg Free, Nut Free, Sugar Free, Grain Free, Vegan, Raw

If avoiding milk products, use coconut oil and coconut milk (or other not dairy option).  If avoiding nuts, omit the pecans.