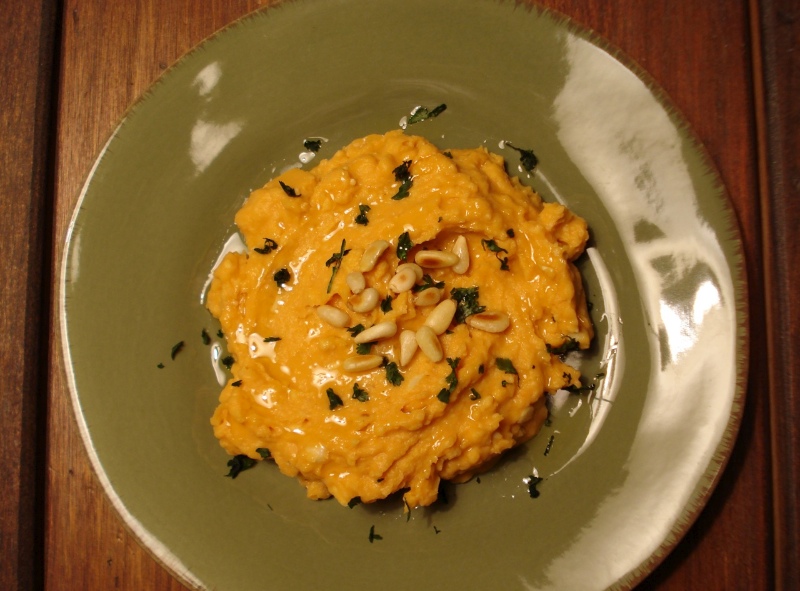 1 can cannellini beans
3/4 cup cooked yam (or sweet potato)
3 TBSP lime or lemon juice
1 small to medium clove garlic, chopped
2 TBSP extra-virgin olive oil
1/2 tsp chipotle powder or 1 tsp chipotle hot sauce (more or less to taste)
1/2 tsp pure salt
freshly ground black pepper to taste
1/4 cup toasted pine nuts (plus extra for garnish) (optional)
2 TBSP fresh cilantro, chopped (optional)
Use a fork to stick a few holes in the potato and place it whole (& unpeeled) on a baking sheet lined w/ parchment paper.
Bake @ 400 for 45 – 60 mins (depending on size) until very soft when pierced.
Take out & let cool for at least a few minutes before handling.
In a food processor or blender, combine all ingredients except pine nuts & cilantro & puree until very smooth.
Add pine nuts & puree just a little, leaving some texture.
Serve drizzled w/ a little extra olive oil & a sprinkling of pine nuts & cilantro.
______________________________________________________________________________________
SIDE NOTES

:

~ From "Vive la Vegan!"

~ In reference to BEANS…. If you're using canned – I highly recommend EDEN organic. One of the problems with canned beans (& all canned products) are the additives (including salt, sugar, corn syrup, dextrose, calcium chloride [a firming agent], & disiodium EDTA [a preservative]) (baked beans & kidney beans seem to be the worst). Eden beans do not contain salt, sugar or artificial additives of any kind. They also use enamel lined cans (BP-A free) so no metals leech into their fine food. Of course, it's always better to start with dried beans & soak, as some of the vitamin content diminishes due to the high heat of the canning process, but I do like the convenience of the can now & then & feel good about Eden's products. We've all got to cut corners somewhere in order to do what we do 🙂

~ For the yam…..I double the recipe & use one large yam. You don't have to be exact measuring this, but the author does recommends not to "pack" it tightly into the measuring cup as the dip might end up too sweet, so careful not to overdo it.

~ Prefer this with lime juice, & the cilantro is awesome!

~ To toast the pine nuts…..Put in dry skillet over med-low heat for just a few minutes. Watch them closely, as they can burn pretty quickly – check & stir them often.

 For those avoiding certain foods

, this recipe falls into the following categories:

Dairy Free, Gluten Free, Egg Free, Nut Free, Sugar Free, Vegan, Grain Free, Raw

If eating nut free, omit the pine nuts.  If eating gluten and/or sugar free, use chipotle powder as opposed to hot sauce (unless you find an acceptable hot sauce).

~ Can eat this dip with chips, pita, veggies, or as a sandwich spread with cukes, sprouts, lettuce….whatever!