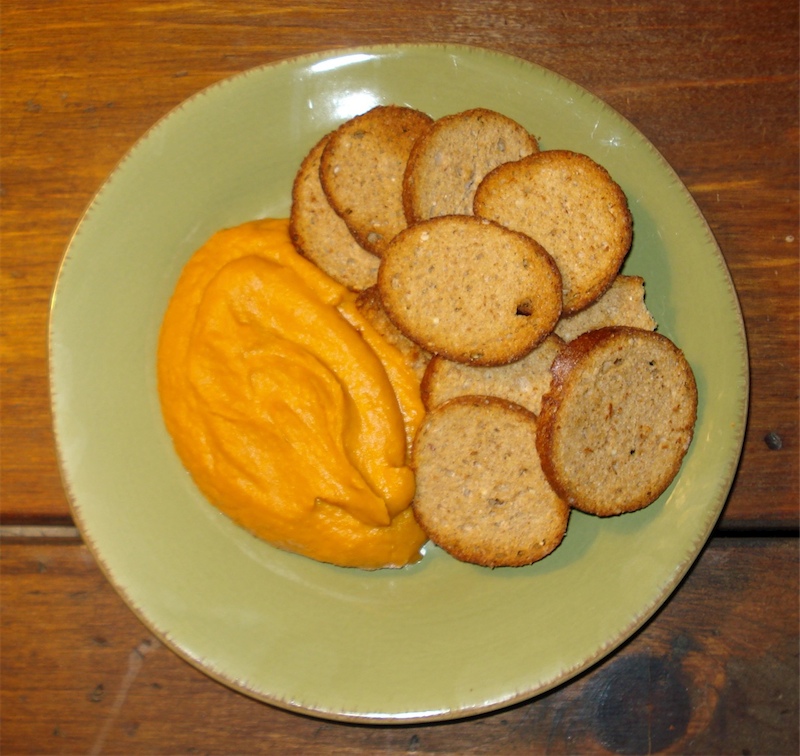 water
1 medium onion, diced
1 sweet potato, peeled & cut into 1-inch cubes (anywhere from 1.5 to 2 cups)
1 heaping cup of butternut squash cut into 1 inch cubes
2 TBSP soy sauce, divided
2 heaping TBSPs sesame tahini
butter, coconut oil, or olive oil, drizzled over the top to taste
Heat a large saute pan over medium heat.
Add about 1 TBSP water & water-saute the onion until translucent, about 5 mins (add a little extra water if you need to).
Add sweet potato, squash, 1 TBSP soy sauce & about 1/2 cup water & bring to a boil.
Cover, reduce heat, & simmer over low heat about 20 – 25 mins, until potato & squash are very tender.
Add the remaining TBSP of soy sauce & allow to simmer, uncovered, until any remaining liquid has been absorbed.
Transfer vegetables to a food processor, add tahini, and process until smooth, thick & creamy, adding water only if the consistency appears too stiff.
Transfer to a serving bowl & serve as a spread with crusty, whole grain bread or crackers.
______________________________________________________________________________________
SIDE NOTES

:

~ From "Cooking the Whole Foods Way" LOVE this dip.

~ I know some people really don't like peeling & cutting up a butternut squash. Not the easiest vegetable to work with. If this is the case w/ you, look for pre-peeled butternut squash in the produce section of the grocery store (sometimes you can get it peeled and chopped).

~ The kids & I have this for dinner sometimes. Just make a big salad & throw in a few nuts or chickpeas.

 For those avoiding certain foods

, this recipe falls into the following categories:

Dairy Free, Gluten Free, Egg Free, Nut Free, Sugar Free, Vegan, Grain Free, Raw

If avoiding gluten, be sure to use a gluten free tamari/soy sauce.