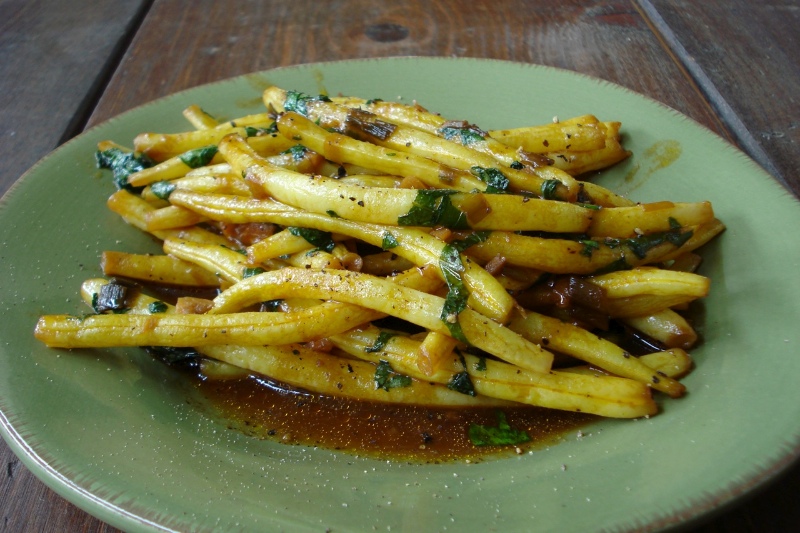 2 TBSP coconut oil
4 medium scallions, thinly sliced
2 medium garlic cloves, minced
3/4 cup veggie or chicken broth
3 TBSP tamari/soy sauce
1 TBSP brown rice vinegar
2 tsps natural sugar (or stevia)
1 pound sting beans
2 TBSP minced fresh basil
freshly ground black pepper
Heat oil in a large saute pan over medium heat.
Add scallions & cook until softened, 2 – 3 mins.
Add garlic & cook for 1 min.
Add broth, soy sauce, vinegar, & sugar & simmer until liquid thickens slightly, about 5 mins.
Add string beans & a few grindings of pepper to pan.
Stir well, lower heat, cover, & cook, stirring occasionally, until beans are tender but still offer some resistance to the bite, about 20 mins.
Stir in basil & serve immediately.
______________________________________________________________________________________
SIDE NOTES

:

~ Adapted from "The Best Recipe"

~ Any color string beans will do – green/yellow/purple

 For those with various food restrictions

, this recipe falls into the following categories:

Dairy Free, Gluten Free, Egg Free, Nut Free, Sugar Free, Grain Free, Vegan, Raw

If eating gluten free, be sure to use a gluten free tamari and dobule check the labels of any packaged goods you're using (such as broth).  If eating sugar free, use stevia or lakanto instead of sugar.