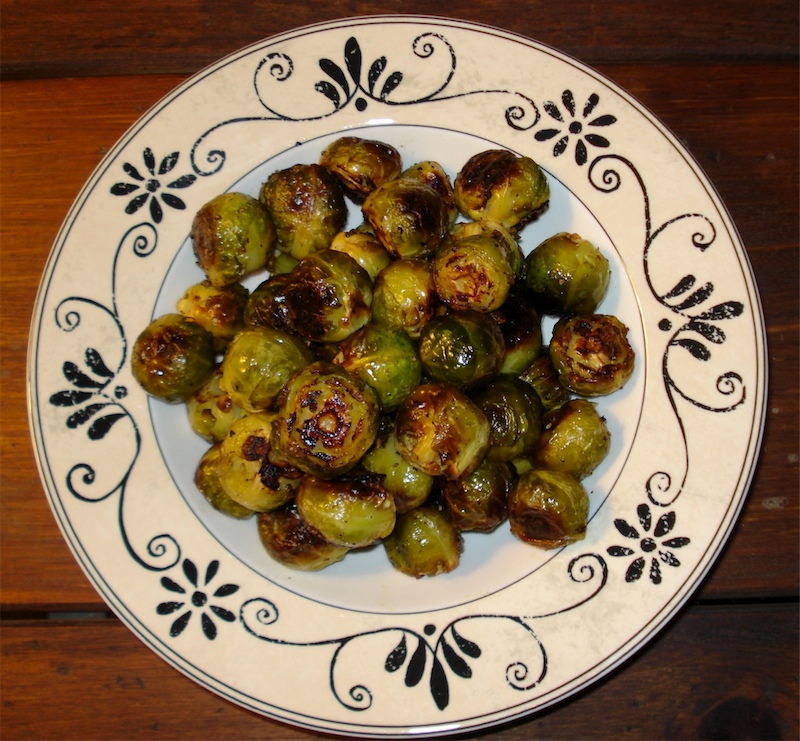 brussels sprouts
butter, ghee, or coconut oil, melted
pure salt & freshly ground, black pepper
Preheat oven to 400.
Cut the stem end off of the brussels sprouts & remove the outer leaf (if it looks ratty, yellowish..etc).
Rinse them well, then pat dry with a paper towel (unless you have time to let them sit & air dry a little).
Put them in a large mixing bowl & add enough melted butter or oil to coat (mix well).
Add salt & pepper – mix again.
Place the brussels sprouts on a parchment paper covered cookie sheet (or pyrex dish).
Bake anywhere from 20 – 40 minutes (until done to your liking).
About half way through, put an oven mitt on & just give the pan a few good shakes so they brown more evenly.
______________________________________________________________________________________
SIDE NOTES

:

~ Use middle oven rack

~ You can omit the parchment paper & just put them right on the cookie sheet or pyrex. I got used to parchment paper at some point & really like the way vegetables come out when I use it.

~ CAULIFLOWER is THE BEST cooked this way as well. In fact, roasted cauliflower is an ingredient in the african groundnut stew and it's a major exercise in restraint for me not to dive face first into it as soon as that pan comes out of the oven. mmmmmmmmmm. My mom used to make cauliflower the same way you'd make breaded chicken cutlets (dip in flour, egg & breadcrumbs – then fry). I used to go nuts when she made that. But sheesh, pretty labor intensive (thanks mom). Roasting them this way though is just as good and way easier!

 For those with various food restrictions

, this recipe falls into the following categories:

Dairy Free, Gluten Free, Egg Free, Nut Free, Sugar Free, Grain Free, Vegan, Raw

If eating dairy free, use coconut oil instead of butter.