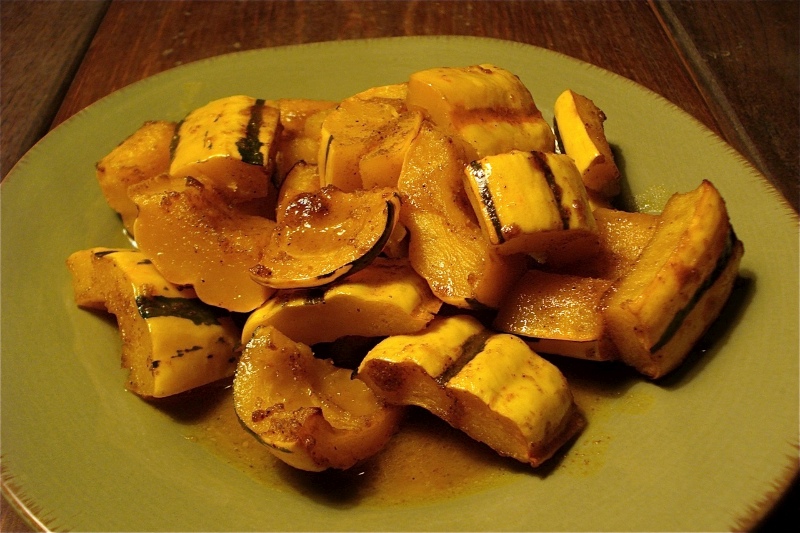 3 TBSP butter, ghee, or coconut oil
2 TBSP brown sugar (or 12 drops liquid stevia)
1 TBSP curry powder
1/4 tsp salt
2 lbs winter squash, peeled if necessary, seeded, & cut into 2-inch chunks
1 cup apple cider
Preheat oven to 450.
Melt butter in an ovenproof casserole large enough to hold the squash in a single layer.
Add the sugar, curry powder & salt, and stir until combined.
Add the squash & toss to coat.
Gradually pour the cider down the side of the pan without pouring it directly over the squash.
Increase the heat & bring to a boil.
Transfer the casserole to the oven & roast for about 30 mins, basting midway through the cooking time.
The squash is done when the tip of a knife does not meet with any resistance when inserted into the squash.
______________________________________________________________________________________
SIDE NOTES

:

~ From 'Fresh Food Fast'. Makes a tasty & easy side dish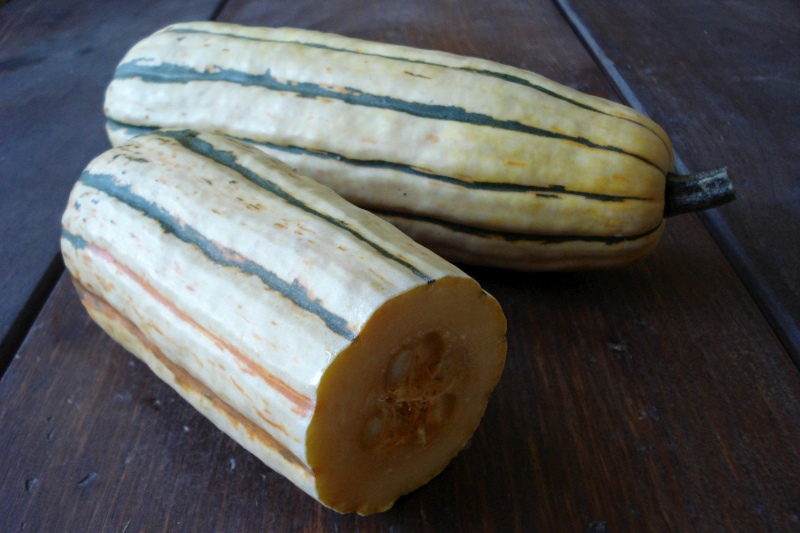 ~ I like delicata squash for this dish (pictured above), which has tender, edible (& nice looking) skin. Other winter squash that don't require peeling are butterCup, red kuri & hokkaido. If you can't find any of these less common varieties, you can use butterNut squash, but it's less convenient as it must be peeled.
~ Hot madras curry powder, located in the spice aisle of most supermarkets, adds a nice level of heat to this dish. Substitute regular curry powder for a milder flavor.
~ Corningware can go both on top & inside the oven (& my squash doesn't exactly fit in a single layer – some over-lap is fine).
For those avoiding certain foods
, this recipe falls into the following categories:
Dairy Free, Gluten Free, Egg Free, Nut Free, Sugar Free, Grain Free, Vegan, Raw
If eating dairy free use coconut oil instead of butter.  If avoiding sugar, use 12 drops of liquid stevia or 2 TBSP lakanto.