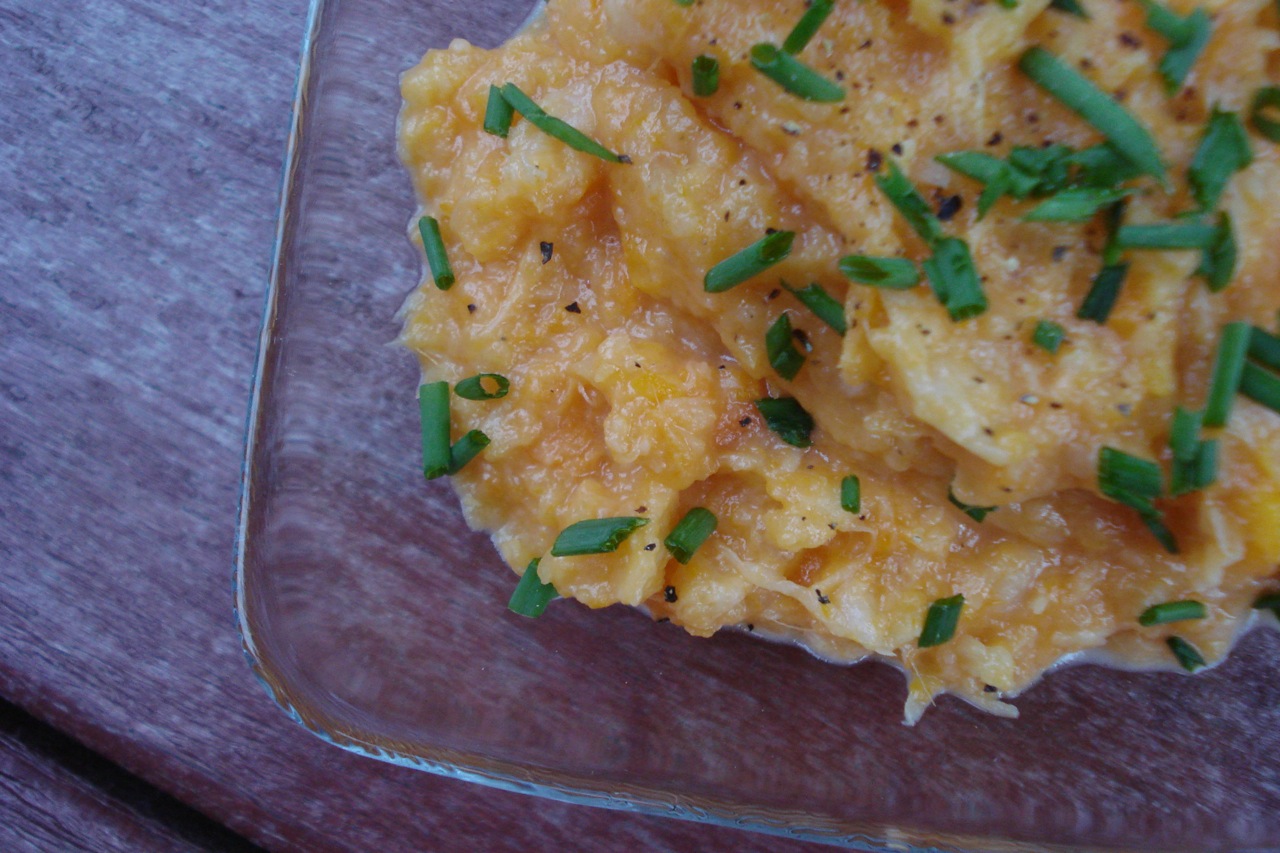 3 & 1/2 pounds assorted root vegetables (carrots, parsnips, turnips, rutabaga, sweet potato), peeled & coarsely chopped
4 garlic cloves
1 tsp pure salt
2 cups heavy cream (or whole milk)
1/2 cup (1 stick) butter
2 sprigs fresh thyme
2 sprigs fresh rosemary
2 bay leaves
pure salt & freshly ground black pepper
1 bunch fresh chives, chopped (optional)
extra virgin olive oil (optional)
Place all the veggies & garlic in a large pot & fill with cool water (to cover veggies) & add 1 tsp salt.
Bring to boil over medium heat & simmer covered for about 25 mins (give or take a few), until veggies are very tender.
While vegetables are cooking, combine the cream, butter & herbs in a small pot & heat over low heat to melt the butter & infuse the herb flavor into the cream – DO NOT ALLOW TO BOIL.
Shut off heat, cover & let steep until needed.
When ready to use, remove the herb stems & bay leaves.
Drain veggies & put into a large mixing bowl.
Mash with a potato masher.
Stir in the warm cream mixture & mix until the liquid is absorbed.
Season w/ salt & pepper to taste.
Put the mashed root veggies in a serving bowl, garnish w/ chopped chives & drizzle with a healthy dose of olive oil.
______________________________________________________________________________________
SIDE NOTES

:

~ My Mom makes this every year for Christmas. It's absolutely to die for.  She got the recipe a few years ago from the Tyler Florence cooking show.

~ It's best if you use a variety of root veggies (don't rely on just one or 2 types). It's the combination of flavors that make this dish special. Use at least one of each type of root vegetable. If you're going to omit one, the sweet potato is the least important.

~ When adding the cream mixture to the veggies, add it a little at a time.  Personally, I don't always need all of it to get the right consistency (you don't want it to end up too thin).

~ And don't be afraid of butter and cream. As long as you're using high quality, real butter and cream (or whole milk), it will be very nourishing. Marketing strategies tend to put spooky masks on a variety of wholesome foods, while directing us to run right into the arms of the real monsters.

 For those avoiding certain foods

, this recipe falls into the following categories:

Dairy Free, Gluten Free, Egg Free, Nut Free, Sugar Free, Grain Free, Vegan, Raw