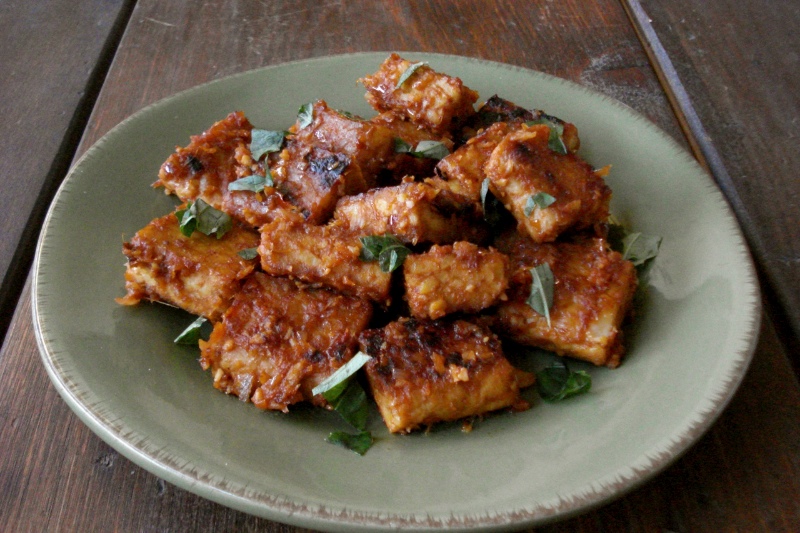 1 pound soy tempeh, cut into roughly 1 inch squares (2 packages)
1 red chile pepper, seeded & chopped
2 shallots, roughly chopped
3 garlic cloves
2 tsp grated ginger
2 TBSP good quality ketchup or BBQ sauce
1 TBSP lime juice
1 TBSP tamari/soy sauce
1 TBSP water
1 tsp natural sugar (or 2 drops of liquid stevia)
3 TBSP coconut oil
1/4 cup chopped fresh basil or cilantro
Steam the tempeh for 30 mins, drain & set aside.
In a small food processor or blender, combine the chiles, shallots, garlic & ginger, process to a paste & set aside.
Heat the oil in a large skillet over medium heat.
Add the tempeh & cook until golden brown on both sides, about 10 mins.
Stir in the reserved chile paste & cook until fragrant, about 2 mins.
In a small bowl, stir together the BBQ sauce, lime juice, soy sauce, water & sugar.
Pour over the tempeh, stir, & continue to cook until the tempeh is coated & the flavors are well blended (just a few mins more).
Add basil (or cilantro) over the top, just prior to serving.
Serves 4.
______________________________________________________________________________________
SIDE NOTES

:

~ Adapted from "Vegan Fire & Spice"

~ Reminder – one package of tempeh is only 1/2 a pound. Also, "three grain tempeh" and "flax tempeh" are not gluten free. Make sure you get soy tempeh if you're avoiding gluten. Also, check the label on your ketchup or BBQ sauce.

~ The recipe actually calls for 2 – 3 red chiles. Only use 3 if you like things really hot. I typically use one dried red chile. Whether using fresh or dried, remember to remove the seeds. Also, wash your hands after handling, as you don't want to inadvertently rub your eyes with any residue on your fingers (ouch!).  Alternately, you can just use crushed red pepper flakes.

~ This is the perfect amount of spiciness for a family. If I was making only for adults, I would probably use 2 dried chiles.

~ Using my small food processor, the ingredients don't form a "paste", they just become very well minced which works out fine. Maybe using fresh chiles (as opposed to dry), would make more of a paste.

[box] For those with various food restrictions, this recipe falls into the following categories:

Dairy Free, Gluten Free, Egg Free, Nut Free, Sugar Free, Grain Free, Vegan, Raw

If eating gluten free, be sure to use a gluten free tamari, and "soy" tempeh.  Also, double check the labels of any packaged ingredients (ketchup, BBQ sauce…etc).  If avoiding sugar, substitute stevia, and seek out a ketchup or EASY-BBQ-SAUCE made with xylitol or stevia (regular ketchup & BBQ sauce are loaded with sugar).[/box]