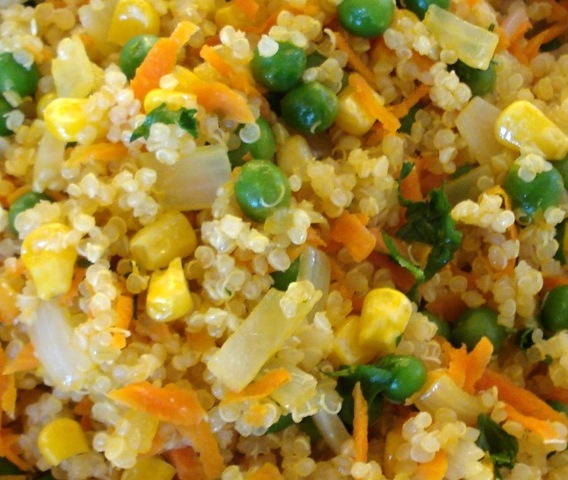 1 cup quinoa
2 cups water
1 TBSP coconut oil, butter, or ghee
1/2 cup chopped onions
1 carrot, grated
3/4 cup frozen peas
3/4 cup frozen corn
1/4 cup chopped parsley (optional)
Rinse the quinoa well in a fine strainer.
Bring the water to a boil & add the quinoa.
Cover & simmer 25 – 30 mins.
In a medium skillet, heat the oil (or butter) & saute the onions for a few minutes.
Add the carrot, peas & corn.
Cover, turn off heat & let sit until the frozen veggies are heated through.
Stir quinoa into saute pan with veggies & toss together.
Add parsley if desired.
______________________________________________________________________________________
SIDE NOTES

:

~ Adapted from "The Chicago Diner Cookbook"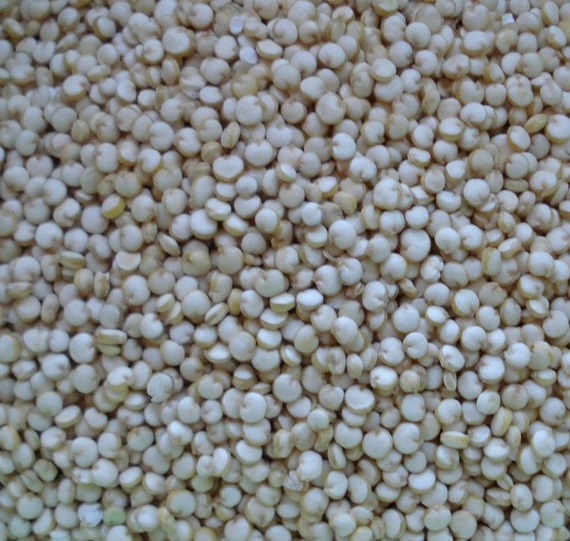 ~ Quinoa (pronounced keen-wah) is often referred to as a *super grain* as it's highly nutritious and in fact one of the few vegetarian foods that is a COMPLETE PROTEIN in & of itself. It looks almost identical to millet (but paler in color – millet is more yellowish) and cooks relatively fast compared to other whole grains. Quinoa is pretty available these days at regular grocery stores – try the gluten free aisle, nature's place area, or rice aisle.
~ The reason you need to rinse quinoa before cooking is because as it grows, it produces its own natural defense against bug infestation in the way of a coating on the grain. It make the quinoa taste a little bitter & a become a bit hard to digest if you forget to rinse.
~ You can of course substitute any veggies you happen to have on hand.
 For those with various food restrictions

, this recipe falls into the following categories:

Dairy Free, Gluten Free, Egg Free, Nut Free, Sugar Free, Grain Free, Vegan, Raw

If avoiding dairy, use coconut oil instead of butter.