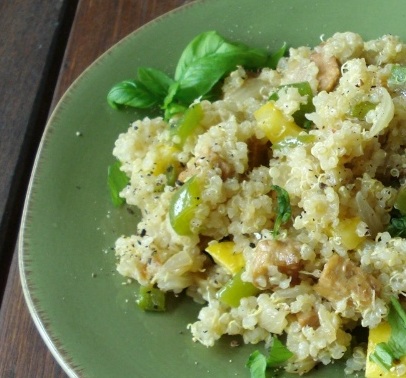 1 cup quinoa
2 cups water
1/4 tsp pure salt
coconut oil, butter, or ghee
1 onion, chopped
1 zucchini, chopped
1 green pepper, chopped
1 eggplant, chopped
fresh basil to taste, chopped or torn apart w/ fingers
pure salt & freshly ground, black pepper to taste
Rinse quinoa well in fine mesh strainer.
Add to dry pot and stir for a few minutes until the quinoa is dry & slightly aromatic.
Add water & 1/4 tsp salt and bring to boil
Lower to a simmer, cover & let cook for 10 mins.
Remove from heat & let sit for 5 mins before uncovering.
Saute veggies in oil (cooking the onions by themselves for a few mins before adding the others).
Cook until tender.
Stir quinoa into veggie mixture.
Add basil, salt & pepper & combine well.
Remove from heat and add a drizzle of olive oil over the top if desired.
______________________________________________________________________________________
SIDE NOTES

:

~ This is a something I put together based on a dish my friend brought to a pot luck dinner that we really enjoyed. She & I both belong to the same CSA, so end up with the same mish mosh of veggies in our fridge each week. This made it easy to try & replicate the dish. Use whatever veggies are in the fridge, or whatever you're in the mood for as you walk through the produce aisle.

 For those with various food restrictions

, this recipe falls into the following categories:

Dairy Free, Gluten Free, Egg Free, Nut Free, Sugar Free, Grain Free, Vegan, Raw

If avoiding dairy, use coconut oil instead of butter.

~ This can actually be as basic as just the quinoa & sauteed onions. That's sometimes what I make when I want a simple grain dish, something rice-like, but not rice.