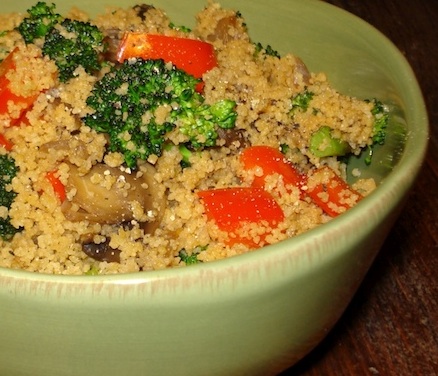 2 TBSP butter, ghee, or coconut oil
1 medium red onion, sliced
1/2 lb cremini or white button mushrooms, trimmed & thickly sliced
1/2 pound broccoli, cut into small pieces (about half of a large bunch)
1/2 pound red bell pepper, diced (1 large pepper)
1 cup whole grain couscous
2 tsps pure salt
In a medium saucepan, warm the oil over medium heat.
Add the onion & saute for 2 mins.
Add the mushrooms & saute for 6 minutes, until the mushrooms have given off their liquid and begun to caramelize.
In a small saucepan or kettle, bring 1 & 1/4 cups water to a boil.
Pour the boiling water over the mushroom mixture.
Stir in the broccoli & peppers & return the mixture to a simmer.
Stir in the couscous & salt and cover the pot.
Turn off the heat & let the couscous steam for 5 – 6 mins.
Fluff with fork & serve.
______________________________________________________________________________________
SIDE NOTES

:

~ Couscous looks like a grain, but is actually a pasta (made from semolina). It's available in both refined white & whole wheat, so check the package to make sure you get the one you want.

~ Substitute any veggies you'd like for the broccoli & red peppers. The original recipe from "Fresh Food Fast" calls for asparagus & sugar snap peas. The caramelized mushrooms & onion make this dish deliciously sweet. It tastes similar to a vegetable fried rice.

 For those with various food restrictions

, this recipe falls into the following categories:

Dairy Free, Gluten Free, Egg Free, Nut Free, Sugar Free, Grain Free, Vegan, Raw

If eating gluten free, use a gluten free couscous (made from brown rice) or substitute millet or quinoa.  If eating dairy free, use coconut oil instead of butter.