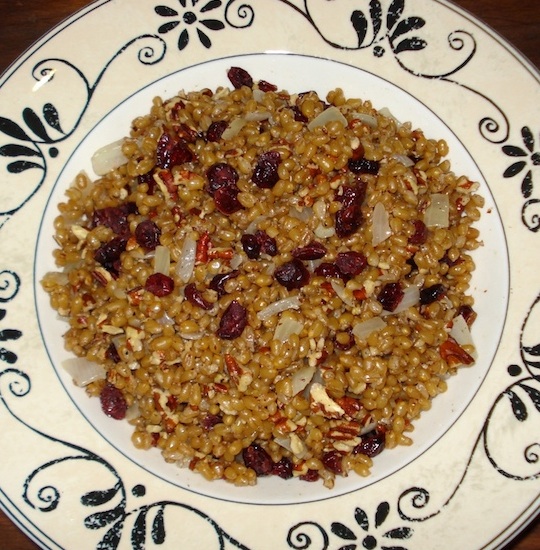 12 oz hard wheatberries
1 medium onion, chopped
1 & 1/2 tsp coconut oil or olive oil
2 TBSP butter (can substitute extra oil if desired)
1 large garlic clove, finely chopped
1 tsp pure salt
1/4 tsp freshly ground, black pepper
1 cup pecans, toasted and chopped (0ptional)
dried cranberries (as much as you want)
Cook wheatberries in 6 cups of boiling water (unsalted), uncovered, until tender – somewhere between 60 & 75 mins.
All the water should be absorbed, if not, drain.
While wheatberries are cooking, cook onion in butter & oil in a heavy skillet over moderate heat, stirring, until softened, about 6 minutes.
Add garlic and cook, stirring, until fragrant, about 1 minute.
Stir in wheatberries, salt, pepper, pecans & dried cranberries.
To Toast Pecans

:
Place on a cookie sheet & bake at 250 for 10 – 15 mins.
______________________________________________________________________________________
SIDE NOTES

: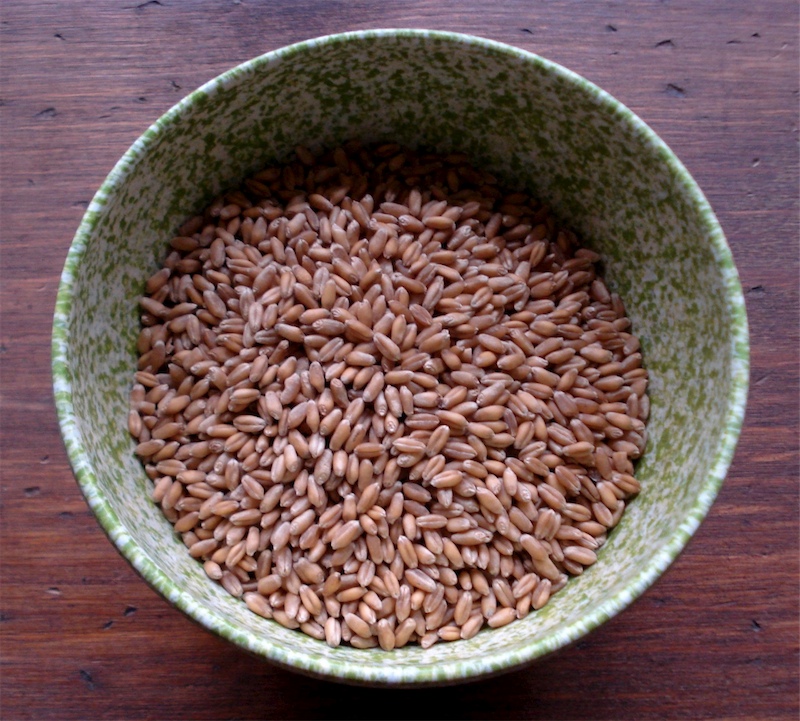 ~ WHAT IS A WHEATBERRY? It's the true meaning of "whole wheat". It's as whole as it gets….the kernel of wheat before it gets ground into flour. It's not a berry the way we normally thing of berries (as in the fruit). It's more like a really nice, chewy, nutty, chunky rice.
~ You might have to go to your local health food store to find them. They come packaged in 2 varieties hard or soft. The hard ones work well for this recipe, although I'm not sure that it matters so much which kind you use (haven't tried the others myself). The package will tell you to cook them much longer than what this recipe suggests. I always follow my recipe & it turns out great.
~  To prepare in advance:  The wheatberries (without pecans) can be made 1 day ahead & chilled, covered. Reheat in oven, covered, at 350 for 30 mins, then stir in pecans & cranberries.
~ This extremely tasty recipe is a nice side dish for Thanksgiving Dinner.
 For those with various food restrictions

, this recipe falls into the following categories:

Dairy Free, Gluten Free, Egg Free, Nut Free, Sugar Free, Grain Free, Vegan, Raw

If avoiding nuts, omit the pecans (can substitute sunflower seeds).  If eating dairy free, use extra oil instead of butter.  If avoiding sugar, omit the dried cranberries (or substitute fresh).