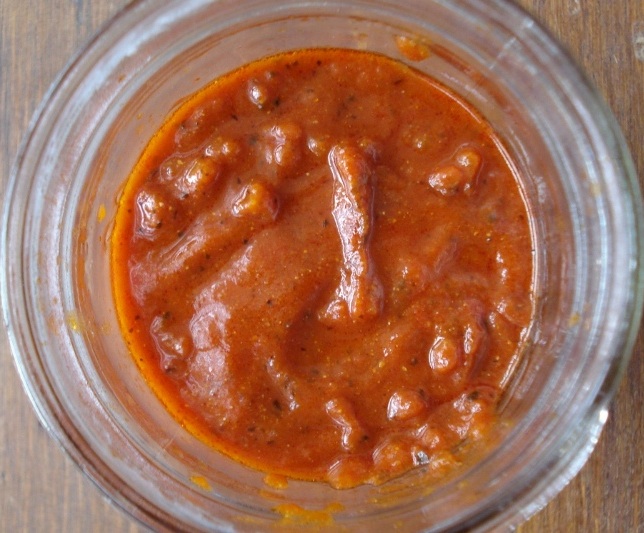 1 TBSP extra virgin olive oil or coconut oil
1 TBSP dried onion flakes (can purchase this in the spice aisle)
1/2 tsp salt
1 tsp garlic powder
1 tsp dry mustard powder
1 tsp dried basil
1 tsp dried oregano
1 (6 or 7 ounce) jar natural tomato paste
1 & 1/4 cups water
2 TBSP apple cider vinegar (or lime juice)
1/4 tsp liquid smoke
honey or sugar (1 tsp or to taste) (or 1/8 tsp stevia powder)
Heat oil in a small saucepan over medium heat.
Add dried onions & saute for a minute or 2.
Add all remaining ingredients & stir well to combine.
Bring to low boil, reduce heat, & simmer, partially covered for about 20-30 mins (stirring occasionally until thickened).
Use within 2 weeks or freeze.
______________________________________________________________________________________
SIDE NOTES

:

~ I like Bionaturae brand organic tomato paste which uses no additives whatsoever (& is packaged in a glass jar as opposed to a can).

~ You want to let the steam escape from the pot so the sauce thickens, but it's best to keep it partially covered while cooking to reduce splattering.

 For those avoiding certain foods

, this recipe falls into the following categories:

Dairy Free, Gluten Free, Egg Free, Nut Free, Sugar Free, Vegan, Grain Free, Raw

If eating sugar free, be careful choosing your tomato paste.

~ I measure the ease or difficulty of a recipe by how much chopping there is to do. There's none in this recipe. Of course, you can use fresh, minced onion & garlic if you'd prefer, but personally, I like to keep this one simple. Also, depending on your taste, you can substitute 1 TBSP soy sauce for the salt, veggie broth for the water, and your choice of sweetener. Enjoy!