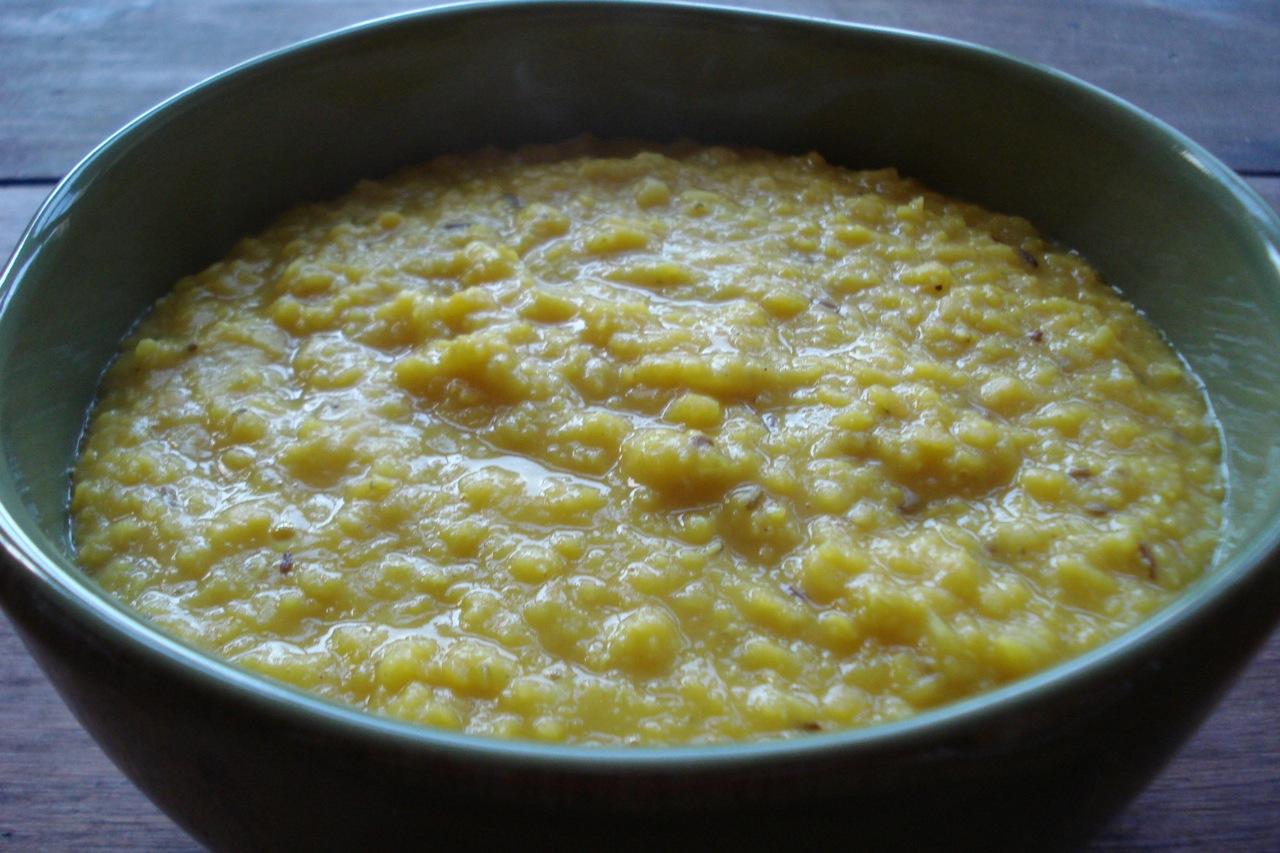 1 & 1/2 cups red lentils, rinsed
1 & 1/2 TBSP minced ginger root
2 medium garlic cloves, minced or crushed
1/2 tsp turmeric
1/2 tsp pure salt
2 TBSP butter, coconut oil, or ghee
1/2 tsp cumin seeds
1/2 tsp anise seeds
3 TBSP lemon juice
ground white pepper (or black pepper) to taste
Bring first 5 ingredients plus 4 cups water to boil in medium saucepan.
Boil for 5 mins.
Reduce heat; simmer (uncovered) until lentils lose their shape, 15 to 20 minutes.
Whisk lentils to make a puree & set aside.
Heat butter (or oil) in a small saute pan.
Add cumin & anise seeds & saute until butter is nutty brown.
Remove from heat & add lemon juice.
Stir mixture into lentil puree.
Season with pepper & serve.
______________________________________________________________________________________
SIDE NOTES

:

~ I find it very convenient to keep my fresh ginger in the freezer and when I need a bit, use a zester to grate it.  Ginger is so much easier to work with frozen (not to mention it will stay fresh for a long time – as opposed to finding it shriveled up & rotten in a corner of the fridge).  If interested, check out my FAVORITE-TOOLS-&-GADGETS page to see my favorite zester.

~ I most often make this to accompany APPLE-STUFFED-ACORN-SQUASH.

 For those with various food restrictions

, this recipe falls into the following categories:

Dairy Free, Gluten Free, Egg Free, Nut Free, Sugar Free, Grain Free, Vegan, Raw

If eating dairy free, use coconut oil instead of butter.