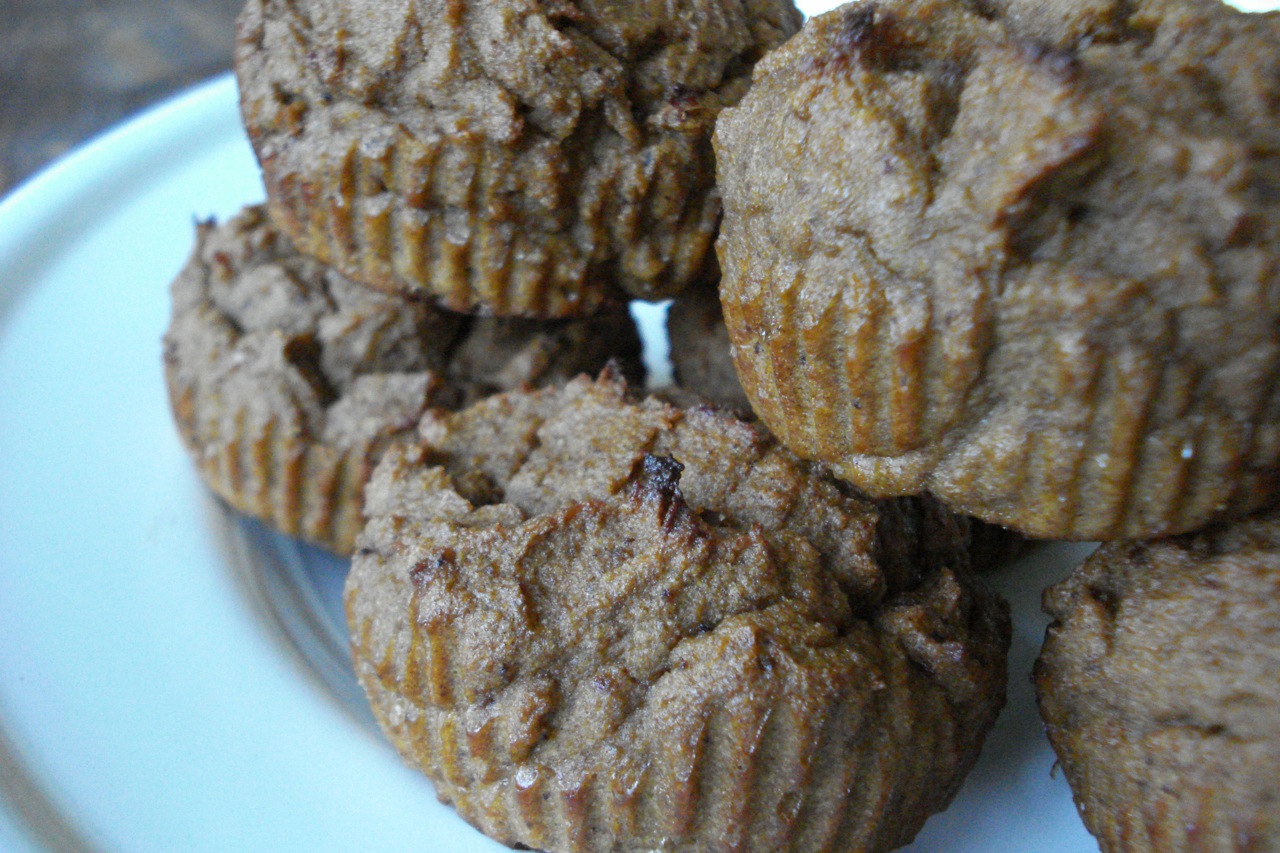 6 eggs
1/4 cup butter or coconut oil, melted
1/2 cup mashed sweet potato or pumpkin
1 cup natural sugar
1 tsp ground cinnamon
1/4 tsp ground nutmeg
1/2 tsp pure salt
1 tsp pure vanilla extract
1/2 cup coconut flour, sifted
1/2 tsp baking powder
Preheat oven to 400 degrees.
Blend together eggs, oil, pumpkin, sugar, cinnamon, nutmeg, salt & vanilla.
Combine coconut flour w/ baking powder & whisk into batter until there are no lumps.
Pour batter into greased muffin cups.
Bake for 18 mins.
Makes 12 muffins.
______________________________________________________________________________________
SIDE NOTES

:

~ Adapted from "Cooking w/ Coconut Flour" – these muffins are delicious. Been doing a lot of baking lately =)

~ Original recipe calls for mace instead of nutmeg. In general, you can use them interchangeably, so use whichever one you happen to have.

~ You should be able to find organic canned sweet potato puree, or organic pumpkin at your local health food store if you prefer the can. Otherwise, bake a sweet potato ahead of time & mash it up (w/o the skin of course).

~ If you're using coconut oil (like I do), when you melt, use very low heat & remove from burner right away (as the idea is to melt it, but you want to heat it as little as possible). Also, I add the coconut oil last, when everything else is blended together. If you add the warm oil into the bowl with the cold eggs, the oil will harden. Once the eggs are blended w/ everything else, this is not an issue). An alternative is to let the eggs sit out at room temp for a little while before you crack them (or just use butter).

~ Can use muffin papers to line the cups to avoid having to grease the pan. Admittedly, it's a bit wasteful, but I like to use the papers. Aside from simply not liking to grease the pan, sometimes muffins end up sticking anyway, even if you grease, and become difficult to remove w/o turning into crumbles. I like "If you care" brand which are unbleached. To save resources & money, the papers can actually be reused if you put them in a ziplock bag in the freezer.

~ The muffins freeze well & are great for a school snack

For those with various food restrictions

, this recipe falls into the following categories:

Dairy Free, Gluten Free, Egg Free, Nut Free, Sugar Free, Grain Free, Vegan, Raw

If eating dairy free, use coconut oil instead of butter.  If eating gluten free, be careful choosing your vanilla.