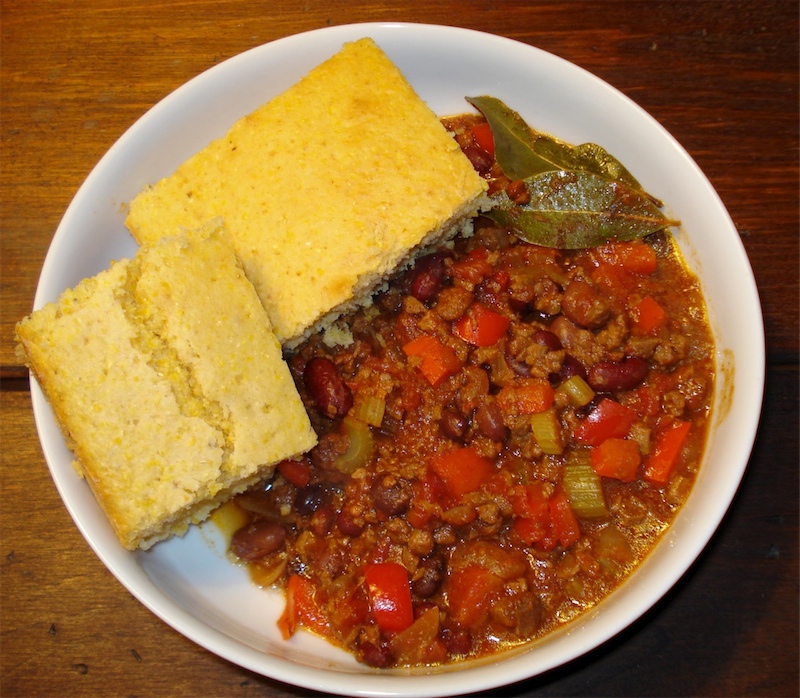 2 TBSP coconut oil, butter, or ghee
2 stalks celery, chopped
1/2 large onion, finely chopped
2 cloves garlic, finely chopped
8 oz soy tempeh, chopped well (1 package)
1 TBSP chili powder
1 red bell pepper, diced
1 13 oz can peeled, ground or crushed tomatoes
1 bay leaf
2 tsps natural sugar (or 4 drops liquid stevia)
2 TBSP brown rice vinegar
2 TBSP tomato paste
1 tsp pure salt
1 can (14 & 1/2 oz) chili beans (pinto, kidney, black, or a combination)
1/4 tsp liquid smoke
Crumble or chop the tempeh.
In a large, heavy based saucepan, heat the oil and on low and saute the celery, onions and garlic until soft.
Add the tempeh and allow to brown slightly.
Add chile powder, red pepper, bay leaf, and tomatoes with their juice (plus, after adding the tomatoes, I put enough water in the package to swish around & grab any remnants of tomato clinging to the package. The chili actually tends to be a little too dry without this added water.)
Simmer, covered for 30 mins.
Add sugar, vinegar, tomato paste dissolved in a little hot water, and salt.
Drain/rinse the canned beans and add them as well as the liquid smoke, & simmer 10 mins longer.
Serve with corn bread. Serves a family of four. (I usually double this recipe.)
______________________________________________________________________________________
SIDE NOTES

:

~  Adapted from the "Complete Vegetarian Cookbook"

~ I love my "KWIK-KUT" gadget for quickly chopping the tempeh.

~ Liquid smoke is just water & hickory smoke concentrate. You can usually find it by the bbq sauce/marinades/salad dressings. Ours is "Wrights all natural hickory seasoning liquid smoke." THIS IS A MUST FOR THE RECIPE – DO NOT OMIT!!!!

~  The only ingredient in tomato paste should be tomatoes, so check the label & make sure you don't pick up one w/ additives.

 For those with various food restrictions

, this recipe falls into the following categories:

Dairy Free, Gluten Free, Egg Free, Nut Free, Sugar Free, Grain Free, Vegan, Raw

If eating dairy free, use coconut oil instead of butter.  If eating gluten free, be sure to use "soy" tempeh (as opposed to "three grain", "veggie", or "flax").  If eating sugar free, use stevia instead of sugar.  Remember to always double check labels on any packaged goods you may be using (tomatoes, beans, etc…)