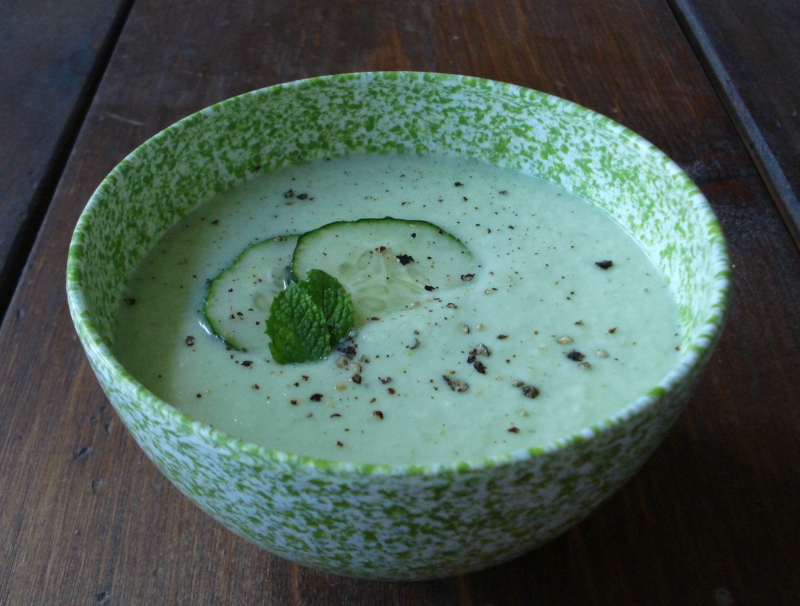 3 large cukes (about 1 & 1/2 pounds), peeled
1 cup plain whole-milk yogurt
1 & 1/2 TBSP extra virgin olive oil
2 tsps red wine vinegar
1 TBSP chopped fresh mint
1 garlic clove, peeled
1 tsp pure salt
freshly ground black pepper
Halve the cukes lengthwise.
Scoop out their seeds with a spoon & discard.
Coarsely chop the cucumber & transfer to a blender.
Add the yogurt, olive oil, vinegar, mint, garlic, salt & blend until smooth.
Season with a little black pepper.
Chill in refrigerator until ready to serve.
______________________________________________________________________________________
SIDE NOTES:
~ Adapted from "Fresh Food Fast." Great summertime soup. And more filling than you'd think. My daughter doesn't like eating cucumbers, but for some reason loves this soup.
~ The recipe calls for 1 & 1/2 tsps salt, but we found it too salty the first time we made it.
~ This soup is cool & refreshing without chilling it (personally, I don't like to eat or drink things that are ice cold). If you want it very cold, put it in the fridge for an hour or 2, or you can just throw in a few ice cubes as you're blending.
 For those with various food restrictions

, this recipe falls into the following categories:

Dairy Free, Gluten Free, Egg Free, Nut Free, Sugar Free, Grain Free, Vegan, Raw