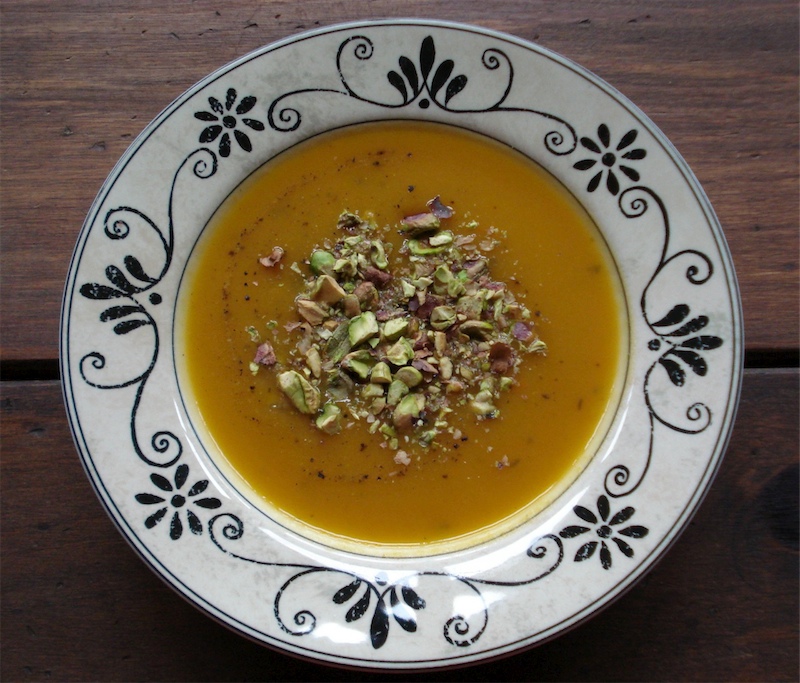 1 TBSP butter or coconut oil
2 onions, chopped
2 large carrots, peeled & chopped
2 medium potatoes, peeled & cut into approx 1 inch cubes
1 cup dry sherry
8 cups veggie broth
6 cups cubed butternut squash (3 pounds)
1 cinnamon stick
1 bay leaf
1/2 tsp dried thyme
1/2 tsp ground nutmeg
salt & pepper to taste
chopped pistachios (optional)
In an 8 quart soup pot, heat oil over medium heat.
Add onions, carrots & potatoes.
Cook, stirring occasionally, until tender but not browned, 10 – 15 mins. (Add 1 – 2 TBSP water if needed to prevent scorching).
Add sherry & cook until liquid evaporates, 3 – 5 mins.
Add veggie broth, squash, cinnamon stick, bay leaf & thyme. Bring to a boil.
Reduce heat & simmer, uncovered, until vegetables are tender, 35 – 45 mins.
REMOVE BAY LEAF & CINNAMON STICK.
In a blender, puree vegetable mixture in 4 batches (or better yet – use an immersion blender). Return to pot & warm over low heat.
Add nutmeg & season with salt & pepper.
Garnish each serving with a sprinkling of pistachios.
______________________________________________________________________________________
SIDE NOTES

:

~ If you have one, use food processor (with chopping blade) to chop onions, carrots & potatoes.

~ The pistachios on top are our favorite part!

~ If you don't already have one, I highly recommend buying an immersion blender. It's such a handy tool. Even if you only use it once or twice a year – it's worth it (they're only about 30 bucks). This way, you don't have to slop the soup back & forth several times in & out of the blender. You can just put the stick blender right in the pot & it purees everything beautifully (wear oven mitts while doing this though in case the hot soup splatters a little).

~ Don't forget to take out the cinnamon stick (& bay leaf) before pureeing the soup. Once, I forgot, & there were little pieces of cinnamon bark throughout what was supposed to be a completely smooth soup. I tried to fish them out but there were a million little pieces, it was impossible & drove me crazy. The soup was still delicious, but the perfectionist in me was slightly twitching.

Have I mentioned my favorite time to have a glass of wine is when I'm making a fancy meal? Even more so when I'm screwing up a fancy meal =)

 For those with various food restrictions

, this recipe falls into the following categories:

Dairy Free, Gluten Free, Egg Free, Nut Free, Sugar Free, Grain Free, Vegan, Raw

If eating dairy free, use coconut oil instead of butter.  If avoiding nuts, omit the pistachios.  I don't know for sure if any cooking sherries are gluten free so could not label this recipe as such.