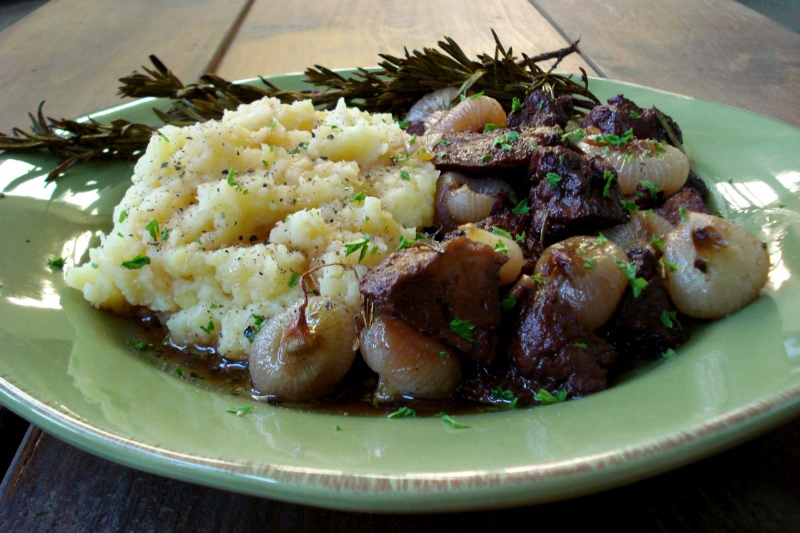 1 & 1/2 lbs potatoes (such as red or yukon gold), peeled & cut into chunks
1 lb parsnips, peeled & cut into chunks
1 & 1/2 TBSP pure salt, plus additional to taste
1 head of garlic, cloves separated & peeled
1/2 stick of butter or 1/4 cup extra virgin olive oil
freshly ground black pepper to taste
Put the potatoes, parsnips & peeled, whole garlic cloves in a large saucepan with 6 cups of water.
Bring to a boil & add the salt.
Reduce the heat & simmer until the veggies mash easily when pressed against the side of the pan with a wooden spoon, about 15 minutes.
Set aside 1/2 cup of the cooking water.
Drain the vegetables & return them to the pan.
Add the butter (or oil) & mash to the consistency you like.
Add a little of the reserved cooking water if the mashed vegetables are too thick.
Season w/ salt & pepper.
______________________________________________________________________
SIDE NOTES

:

~ From "Fresh Food Fast"

~ In case you're unfamiliar, parsnips look sort of like white carrots.

 For those avoiding certain foods

, this recipe falls into the following categories:

Dairy Free, Gluten Free, Egg Free, Nut Free, Sugar Free, Grain Free, Vegan, Raw

If eating dairy free use olive oil instead of butter.

~ See BALSAMIC-ROASTED-SEITAN for accompanying recipe (pictured above).