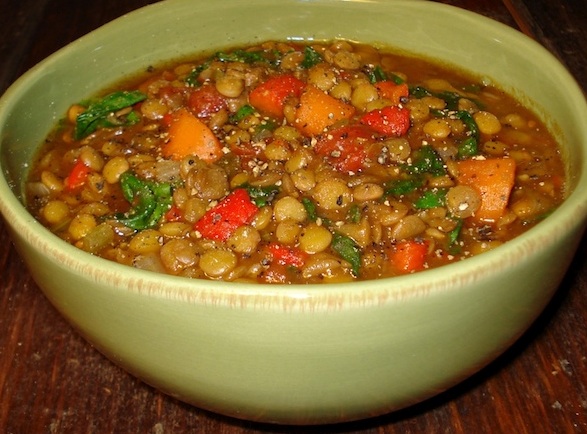 1 & 1/2 cups green or brown lentils
1 bay leaf
6 cups of water
2 carrots, chopped
1 small to medium onion, chopped
2 cloves garlic, minced
2 celery stalks, chopped
1/2 of a red bell pepper, chopped
1 15 oz can stewed tomatoes
1 & 1/2 tsp pure salt
1/4 tsp black pepper
1/4 cup tamari/soy sauce
1 bunch baby spinach (optional)
Put lentils in a large pot with the bay leaf & water.
Cook, covered, over medium heat 30 mins.
Prep veggies while lentils cook.
Add the carrots onion & continue cooking about 5 mins.
Add the garlic, celery, bell pepper, tomatoes, salt & pepper & simmer 30 mins more.
Add the soy sauce & mix in the spinach just before serving (it will only take a minute or 2 to wilt).
______________________________________________________________________________________
SIDE NOTES

:

~ Adapted from "The Chicago Diner Cookbook"

~ This recipe called for 2/3 cup carrots, 3/4 cup chopped onion, 1/2 cup each of celery & bell pepper. I find it easier to round-up just a little so you're not left with a little bit of onion or half a stalk of celery….etc, but do whatever works for you.

 For those with various food restrictions

, this recipe falls into the following categories:

Dairy Free, Gluten Free, Egg Free, Nut Free, Sugar Free, Grain Free, Vegan, Raw

If eating gluten and/or sugar free, check the label on the stewed tomatoes.