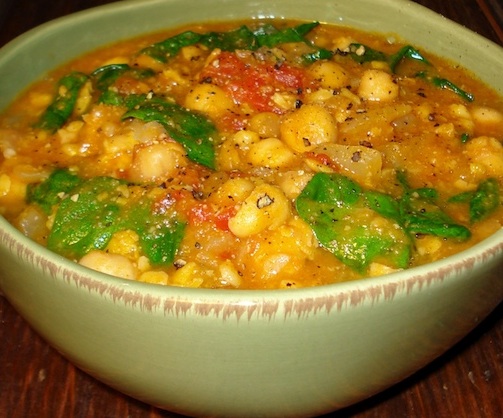 extra-virgin olive oil
1 large onion, diced
6 to 8 cloves garlic, pressed
1 tsp ground cinnamon
1 tsp ground cumin
1 heaping tsp sweet paprika
1/8 tsp cayenne pepper
1 (14.5-ounce) can chopped tomatoes
3 (15-ounce) cans chickpeas, drained and rinsed well
32 oz vegetable or chicken broth
1 teaspoon natural sugar (or 2 drops liquid stevia)
pure salt (to taste)
5 oz baby spinach
Heat olive oil in large pot over medium heat.
Add onion and saute until it begins to turn translucent, but don't let it brown.
Add the garlic and spices and saute a minute or two.
Add tomatoes, chickpeas, broth, and sugar (or stevia).
Season with a pinch or two of salt & stir well.
Chickpeas should be just covered with liquid; add a little more broth or water if they aren't.
Bring to a boil, then adjust heat to low and gently simmer for 45 minutes.
Remove soup from heat.
Use a potato masher to mash up some (but not all) of the chickpeas right in the pot.
Stir in the spinach and let heat through until wilted, just a couple of minutes.
Adjust seasoning (salt & cayenne) to taste.
______________________________________________________________________________________
SIDE NOTES

:

~ Recipe, courtesy of my friend, Bre 😉

 For those with various food restrictions

, this recipe falls into the following categories:

Dairy Free, Gluten Free, Egg Free, Nut Free, Sugar Free, Grain Free, Vegan, Raw

Always check the labels of any canned goods you're using (tomatoes, beans, broth…) if eating gluten and/or sugar free.