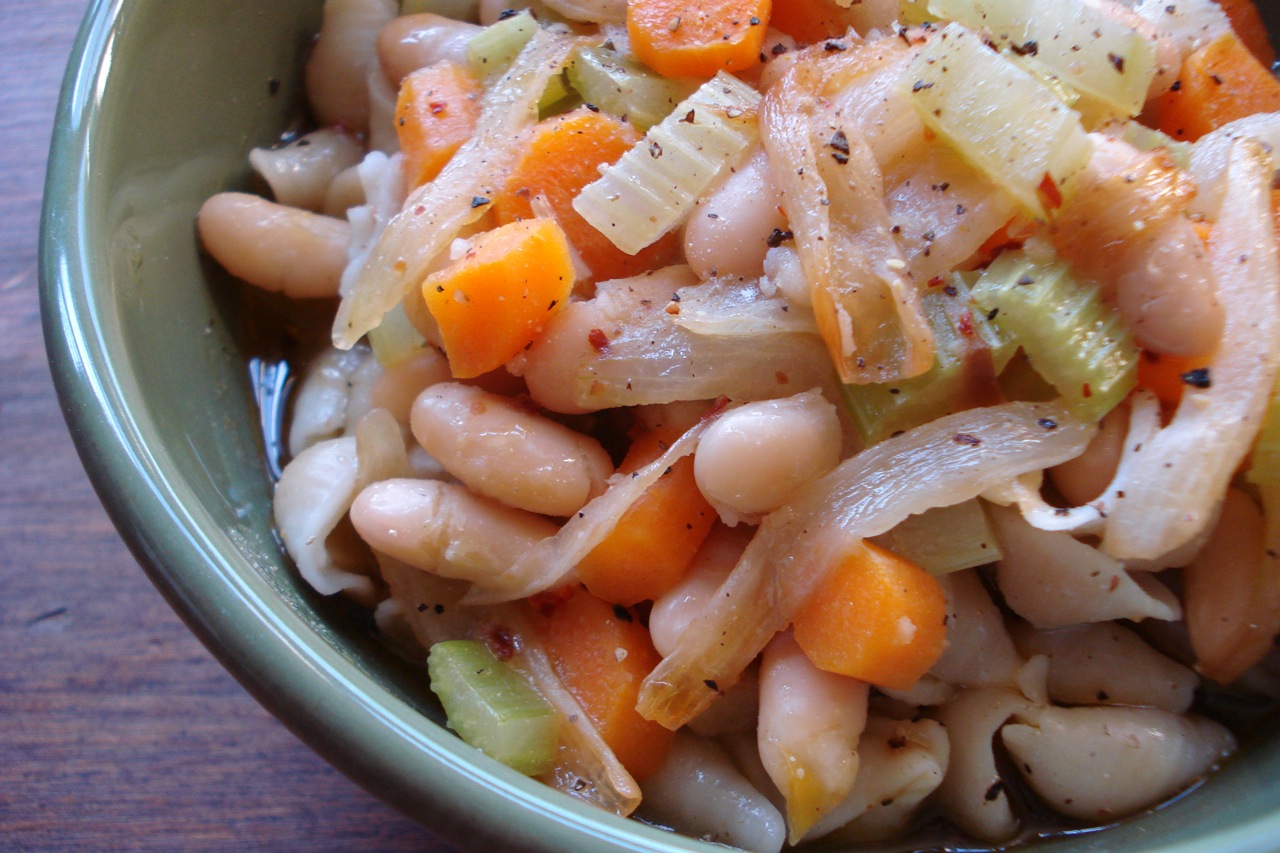 Just one of many ways to make this type of dish….
butter, ghee, or extra virgin olive oil
1 large onion, chopped
garlic (however much you like), cut into chunks
1/4 tsp crushed red pepper (or more)
4 carrots, chopped
4 celery stalks, chopped
32 oz veggie or chicken broth
2 cans cannelini or great northern beans
handful of parsley, chopped (optional)
1 lb whole grain pasta (elbows or small shells work well for this)
pure salt & freshly ground pepper to taste
While the water for the pasta is heating up, prep veggies.
Heat butter or oil in large saute pan & cook onions, gently, until softened & starting to brown (5 to 10 mins).
Add garlic & crushed red pepper & continue cooking a few minutes longer (2 or 3).
Add carrots & cook until somewhat softened (check w/ fork, maybe 5 mins).
Add celery & cook just a few more minutes.
Add veggie broth, beans (& parsley if using).
Cover & simmer for a few minutes until heated through.
Bring water back to a boil (if you turned off the heat) and cook pasta until al dente.
Add a scoop of pasta to everyone's bowls & top with lots of fagiole.
A very satisfying dish & old standby at our house.
______________________________________________________________________________________
SIDE NOTES

:

~ When it's just the kids & I, I cut the recipe in half. Use approximately 4 oz of pasta per person.

 For those with various food restrictions

, this recipe falls into the following categories:

Dairy Free, Gluten Free, Egg Free, Nut Free, Sugar Free, Grain Free, Vegan, Raw

If eating gluten and/or sugar free, use an appropriate pasta (brown rice pasta is our personal preference), and double check labels of any packaged products such as veggie broth and beans.