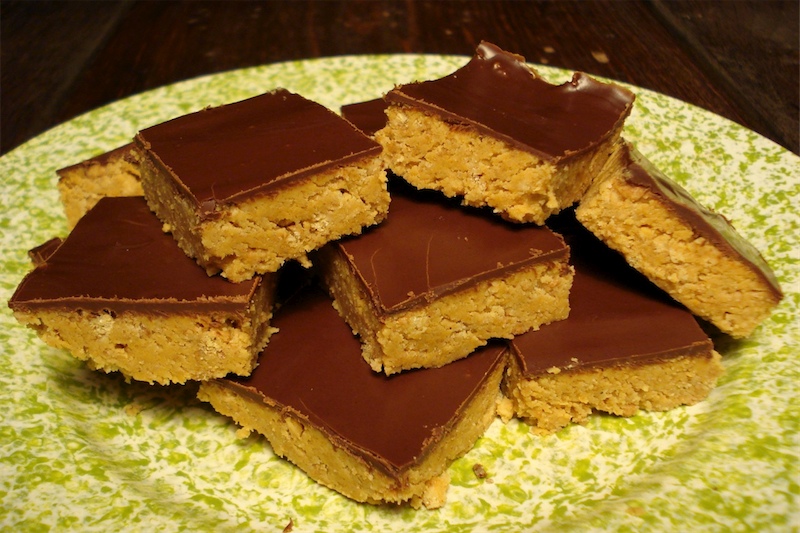 2 cups puffed, brown rice cereal, crushed
1 & 1/2 cups (1 full 16 oz jar) natural, crunchy peanut butter (or other nut/seed butter – see notes below)
2 cups organic powdered sugar
1/2 cup, plus 2 TBSP butter, or coconut oil, melted
1 tsp vanilla
heaping 1/2 cup mini chocolate chips
Coat a 9X13 baking pan with coconut oil or butter.
Combine crushed cereal, peanut butter, powdered sugar, 1/2 cup melted butter, and vanilla in a large bowl.
Press mixture into baking pan.
Melt the chocolate chips with remaining 2 TBSP butter and stir to combine.
Spread chocolate mixture over the peanut butter mixture and let set for about 2 hours in refrigerator.
Cut into squares.
________________________________________________________________________
SIDE NOTES:
~ Got this recipe over a year ago from friend Sharon Shiner who offers her own nutrition/recipe information via 'Thyme to cook'. Check her out!
~ I keep these peanut butter squares in the freezer & pull them out for special occasions, or when some trading is necessary. For example, I sometimes trade them to the kids for candy they acquire at parties/halloween…etc. They get one square for 3 pieces of candy. These bars are soooooo tasty that it's worth a 3 to 1 ratio – even to them. Of course, they contain a lot of sugar, but at least I'm in control of the other ingredients and get to omit all the food colorings, preservatives & other unpronounceable additives. You can actually pack a decent amount of nutrition into these things by using a good nut butter, high quality butter or coconut oil, and high quality, antioxidant rich dark chocolate.
~ On the rare occasion powdered sugar comes into my life, I like "Wholesome Sweeteners" brand.
~ You can crush the cereal either by beating it up a bit while still in its sealed plastic bag, or pouring into a bowl & using a potato masher/meat tenderizer/back of big spoon…etc. (FYI – EnviroKids "Koala Crisp" is dairy & gluten free)
For those with various food restrictions
, this recipe falls into the following categories:
Dairy Free, Gluten Free, Egg Free, Vegan, Nut Free, Sugar Free, Grain Free, Raw
If eating dairy free, use coconut oil instead of butter, and be careful choosing your chocolate.  If eating gluten free, use an alcohol free vanilla, and gluten free chocolate.  If you can't eat nuts, but are Ok with sunflower seeds, substitute sunbutter for the peanut butter (which would make this recipe nut free).