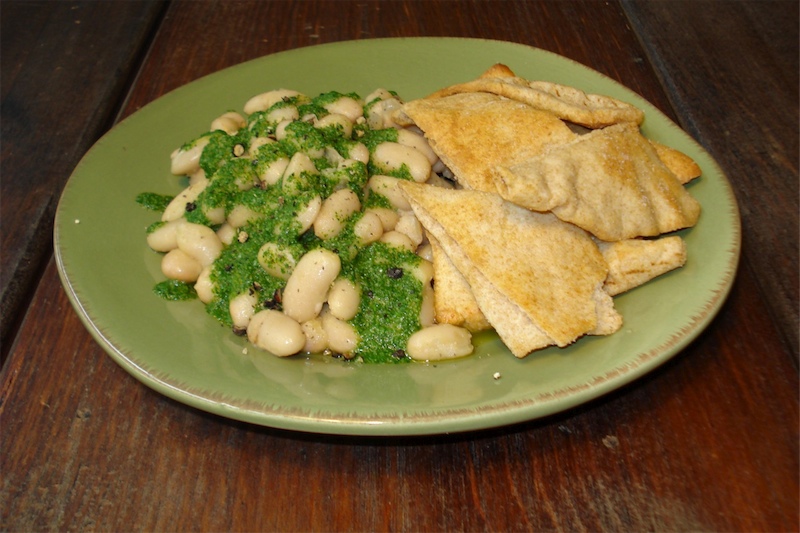 For the beans:
2 (15-ounce) cans cannellini beans
3 TBSP extra virgin olive oil
1/4 cup minced onions
1 & 1/2 tsps minced garlic
4 tsps lemon juice
1/4 tsp pure salt
1/4 tsp ground black pepper
Pinch cayenne
1/3 cup very finely grated Parmesan, or crumbled goat cheese (optional)
bread, cracker, or chip of choice for scooping
Rinse beans & drain.
Heat oil in a large skillet over medium heat.
Add the onions and garlic and cook until soft and fragrant, about 2 minutes.
Add the beans, lemon juice, salt, black pepper & cayenne, and cook, stirring, until softened and warmed through, about 3 minutes.
You can either transfer the beans to one large serving bowl, or split up into individual serving bowls.
Sprinkle with cheese if using.
For the parsley pesto:
1 & 1/2 cup fresh parsley leaves
1 & 1/2 tsps minced garlic
2 tsps lemon juice
1/4 tsp pure salt
1/4 cup extra virgin olive oil
In a blender or small food processor, combine the parsley, garlic, lemon juice, salt.
Add the oil (with the motor running if possible) and process until smooth.
Drizzle pesto over the beans, add some fresh black pepper if you'd like, and serve with bread or chips for dipping.
______________________________________________________________________________________
SIDE NOTES

:

~ Serves 2 adults for lunch, or more if using as an appetizer or snack.

~ You can use cannelinis & great northern beans interchangeably.

~ My small food processor doesn't allow adding ingredients while motor is running, so don't worry about that if yours doesn't either, just pour it in & continue blending. (It's not worth dirtying the big food processor unless you're doubling the recipe.)

~ We eat this cheeseless & it's AMAZING, so don't think twice about skipping it. You can always sprinkle some on top if you decide you want it after tasting.

 For those avoiding certain foods

, this recipe falls into the following categories:

Dairy Free, Gluten Free, Egg Free, Nut Free, Sugar Free, Vegan, Grain Free, Raw

If eating dairy free, omit the cheese.  Can use gluten free crackers/chips/bread.