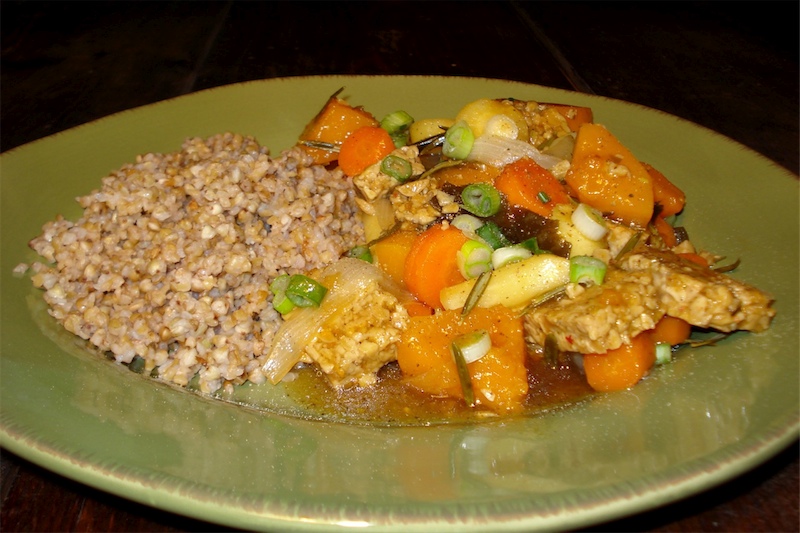 4 TBSP butter, ghee, or coconut oil
4 (3 to 4 inch) strips kombu seaweed, broken into 1 inch pieces
3 garlic cloves, chopped
1 TBSP peeled, minced fresh ginger
2 sprigs fresh rosemary or sage
2 (8 oz) packages soy tempeh, cut into 1-inch squares
4 TBSP tamari/soy sauce
1 TBSP pure maple syrup (or 6 drops of liquid stevia)
1 large onion, cut into 1/2 inch think slices
1 & 1/2 pounds winter squash, seeded & cut into 2-inch chunks
1 large or 2 medium parsnips, peeled & cut into 1/2 inch thick slices
2 large carrots, peeled & cut into 1/2 inch thick slices
pure salt
2 tsps arrowroot powder
2 scallions, thinly sliced
Preheat oven to 400.
Chop all the veggies.
In a large corning ware over medium heat, melt the butter or oil.
Add the kombu & saute for 2 mins.
Add the garlic, ginger & rosemary or sage.
Arrange the tempeh in a layer on top.
In a small bowl, whisk 1 cup of water w/ 2 TBSP of the tamari & the maple syrup (or stevia).
Pour over the tempeh.
Top the tempeh w/ a layer each of onions, squash, parsnip, & carrot – in that order.
Sprinkle w/ salt.
Cover the casserole & bring to a boil.
Transfer casserole to the oven & bake until the veggies are tender, about 25 mins (poke a large piece of carrot w/ fork to check).
With a slotted spoon, transfer the vegetables & tempeh to a serving bowl, leaving the juices in the corning ware
Place the corning ware over medium heat.
In a small bowl, dissolve the arrowroot in 1 & 1/2 cups of cold water & add the remaining 2 TBSP soy sauce.
Whisk this mixture into the juices in the corning ware.
Simmer, stirring constantly, until the sauce thickens.
Pour the sauce over the tempeh & vegetables.
Gently fold in the scallions & serve w/ a side dish of your choosing.
______________________________________________________________________________________
SIDE NOTES

:

~ Adapted from "Fresh Food Fast"

~ Make sure the cookware you choose can go both on the stove top & in oven (I use a large corning ware).

~ In reference to Kombu…….Sea vegetables are extremely nutritious with tons of phytochemicals, vitamins, minerals, fiber & even a little protein. They are said to prevent & treat many types of cancer, lower blood cholesterol & blood pressure, prevent ulcers and kill bacteria. You don't need to eat a big seaweed salad to get the benefits, a sprinkle here & there is good. However, you can skip this step if you can't be bothered. Been there.

~ I'd consider this a fairly complicated/time-consuming meal to prepare. In light of that – a few legal cheats – jarred, minced ginger (you can even get this organic if interested), and pre-peeled/pre-cut butternut squash.

~ Before you add the garlic & ginger, lower the heat for a few minutes. The first time I made this, there was sort of a popping explosion & garlic/ginger went flying all over the kitchen.

 For those avoiding certain foods

, this recipe falls into the following categories:

Dairy Free, Gluten Free, Egg Free, Nut Free, Sugar Free, Grain Free, Vegan, Raw

If eating dairy free, use coconut oil instead of butter.  If eating gluten free, be sure to use a gluten free tamari and "soy" tempeh (not "three grain", "flax", or "veggie"). If avoiding sugar, use stevia instead of maple syrup.