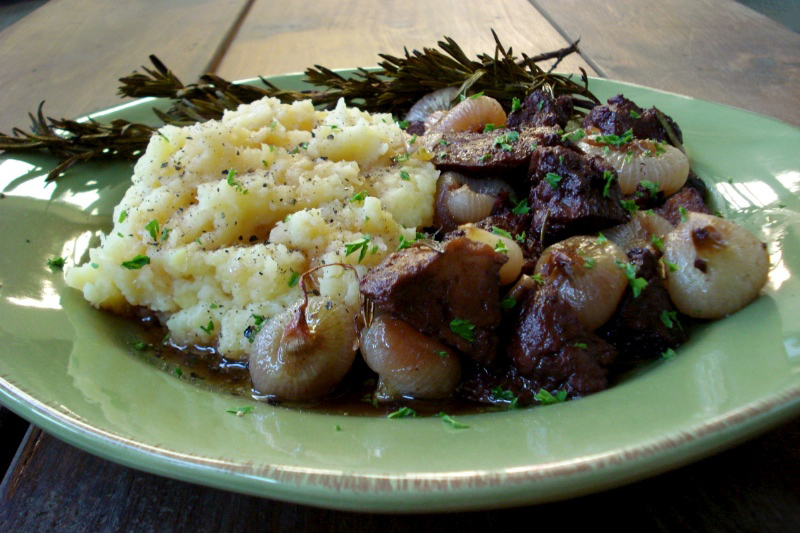 1 & 1/2 lbs cipollini onions (or small white boiling onions)
16 oz of seitan cut into 1-inch chunks
2 sprigs fresh rosemary
1 cup dry red wine
1/3 cup balsamic vinegar
1/4 cup coconut oil or butter, melted
1/4 cup tamari/soy sauce
1 TBSP honey (or about 6 drops of liquid stevia)
1 TBSP chopped, fresh parsley
Preheat oven to 475.
In a large saucepan over high heat, bring approx 4 cups of water to a boil.
Add the onions & blanch for 30 seconds.
Drain the onions in a colander & cool under cold running water.
Pull off their skins & drain.
In a large ovenproof saute pan, arrange the onions in a single layer.
Add the seitan & rosemary.
In a small bowl, whisk together the wine, vinegar, oil (or butter), soy sauce & honey with 1/3 cup of water.
Pour the mixture evenly over the onions & seitan.
Place the pan over high heat & bring to a boil.
Transfer the pan to the oven & roast for 25 mins, stirring occasionally for even browning.
Garnish with parsley.
______________________________________________________________________________________
SIDE NOTES

:

~ Adapted from "Fresh Food Fast"

~ This is as close to meat & potatoes as it gets without getting up close & personal w/ a cow. It's an absolute 5 star meal, but definitely not a good choice for those sensitive to gluten….

~ Sometimes referred to as "wheat meat," seitan (say-TAHN) is made from gluten. In fact it IS gluten! Gluten is the name of the insoluble protein in wheat, probably most familiar as the stuff that makes bread dough elastic. Seitan is a low fat, high protein, firm-textured meat substitute. It has been eaten in China, Japan, Korea, Russia and the Middle East for thousands of year. You'll have to visit your local health food store to find it (either in the refrigerated area by the tofu/tempeh or in the freezer area). Please keep in mind, however, that gluten is difficult to digest for many people & best avoided if you suspect a problem.

~ The only real time-consuming part of this meal is peeling the onions. If you pick smaller ones, they'll look cuter, but it means you have more of them to peel. Grab the largest ones available to cut down on peeling time.

~ You don't have to chop the rosemary, or pick the leaves off…..just put in 2 whole sprigs (easy!)

~ Corningware can go both on top of the stove & in the oven.

~ See GARLIC-MASHED-POTATOES-PARSNIPS for potato recipe.

 For those avoiding certain foods

, this recipe falls into the following categories:

Dairy Free, Gluten Free, Egg Free, Nut Free, Sugar Free, Grain Free, Vegan, Raw

Substitute stevia for the honey if eating sugar free.