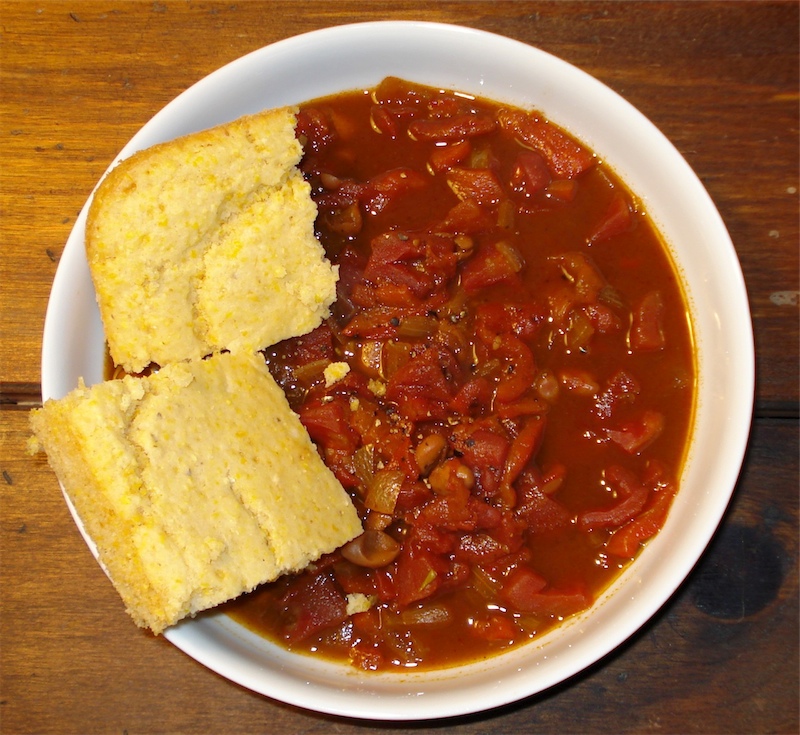 1 TBSP coconut oil or butter
1 & 1/2 cups chopped onions (about 2 medium onions)
2 cloves garlic, coarsely chopped
1 TBSP chili powder
1 TBSP cumin
1/2 tsp allspice
1/8 tsp ground cloves
24 oz can chopped tomatoes (or 2 cups chopped fresh tomatoes)
4 cups veggie or chicken broth (32 oz)
2 cups cooked or canned pinto beans
1 cup roasted, peeled, & chopped red peppers (about 4 peppers)
1/8 cup molasses (2 TBSP)
2 tsp hot sauce
2 tsp red wine vinegar
a dash or 2 of liquid smoke
pure salt & freshly ground pepper to taste
shredded cheddar cheese (optional)
Roast peppers by cutting them in half, removing seeds & pith & roasting under broiler until blackened (about 10 or 15 minutes).
If you let them sit to cool for a little while after taking them out of the oven, the skin will peel off very easily.
Peel, chop & set aside.
Heat the oil over medium heat in a soup pot.
Cook the onions & garlic until the onion is soft & translucent.
Stir in the chili powder, cumin, allspice & cloves.
Lower the heat & continue cooking for 2 minutes.
Add the tomatoes, broth, beans, peppers, molasses & tabasco & simmer anywhere from 1 – 2 hours.
Just before serving, stir in the vinegar & salt & pepper to taste.
______________________________________________________________________________________
SIDE NOTES

:

~ Adapted from "Power Foods".  This is similar to chili, but in soup format.

~ There are a lot of ingredients in this one, but not much work. Basically, just have to roast/chop the peppers & chop an onion.

~ We rarely simmer this soup for the full 2 hours. 60 – 90 mins is fine.

~ If you're serving kids, mix the hot sauce in only after you've already removed their portions (unless of course they like spicy).

 For those with various food restrictions

, this recipe falls into the following categories:

Dairy Free, Gluten Free, Egg Free, Nut Free, Sugar Free, Grain Free, Vegan, Raw

If eating dairy free, use coconut oil instead of butter and omit the cheese.  Always check the labels of any canned goods you're using (tomatoes, beans, broth, hot sauce…) if eating gluten and/or sugar free.