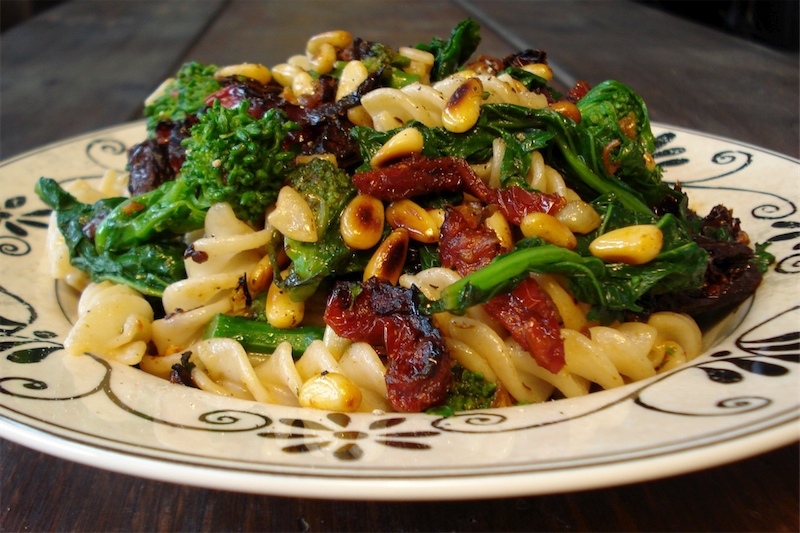 2 TBSP butter, ghee, or extra virgin olive oil
3 large garlic cloves, minced
1/2 tsp crushed red pepper flakes (or more!)
1/2 cup julienne cut, sundried tomatoes (packed in oil), drained
1 big bunch of broccoli rabe, blanched
3 TBSP pine nuts, toasted (optional)
1/2 lb whole grain pasta
salt & pepper to taste
Toast pine nuts in a small, dry skillet until lightly browned.
Transfer nuts to a small bowl to cool & set aside.
Remove & discard the stems from the broccoli rabe & wash the greens.
Blanch the broccoli rabe by placing in boiling water (add 2 tsp of salt w/ the greens) for about 2 minutes.
Drain & immediately place the greens in a bowl filled with cold water (to stop the cooking process).
Drain again, & gently squeeze out any excess water (or use a salad spinner!) & set aside.
Cook pasta until al dente.
While pasta is cooking, add butter (or oil), garlic, red pepper & sun-dried tomatoes to a large skillet & cook over medium heat about 3 – 4 mins.
Add pine nuts and blanched broc rabe & cook, stirring to coat with butter until the greens are heated through – about 1 minute.
Drain pasta & add to vegetables.
Remove from heat, add a swirl of olive oil if you'd like & toss.
Add salt & pepper to taste.
Serves 2 lucky ducks =)
______________________________________________________________________________________
SIDE NOTES

:

~ Remove as much of the stems as possible, right up to where the leaves start. They're hard to chew (for my chompers anyway).

~ The only downside to this recipe is that it uses several pots & pans. 1 pot for the pasta, one to blanch the broc rabe & a saute pan for the vegetables. Even though there are only a small amount of pine nuts to toast, if you want, you can use the saute pan you'll later use for the veggies. Once you drain the broc rabe the first time, you can use that same pot for the cold water, or if you don't mind dirtying something else, have a bowl of cold water ready so you can transfer right away. I LOVE broccoli rabe's unique flavor, however, if it cooks too long, it will get bitter. That's why blanching it works really well……a quick cook & then right into cold water to stop the cooking process. And on that note, try to time it so that the broc rabe goes into the saute pan right about when the pasta is ready. You don't want the greens to cook, you just want them to warm up for a minute or 2.

~ A salad spinner is excellent for getting the excess water out of the greens. I bought one a long time ago, specifically for this recipe (& this is one I concocted myself by the way!), and it's actually the only recipe I use it for. But, I think it's worth it. If the broc rabe is holding excess water, it will dilute the intense flavors in this dish. Of course, the salad spinner adds to the mass of pots & pans that need to be cleaned. (thank you dishwasher)

~ You can usually find jarred sundried tomatoes, packed in oil that are already julienne cut.

~ Of course, you can also make this without the pasta, as a warm salad or side dish.

 For those with various food restrictions

, this recipe falls into the following categories:

Dairy Free, Gluten Free, Egg Free, Nut Free, Sugar Free, Grain Free, Vegan, Raw

If eating gluten free, use an appropriate pasta (brown rice pasta is our personal preference), and double check labels of any packaged products such as sun-dried tomatoes.  If avoiding nuts, omit the pine nuts.