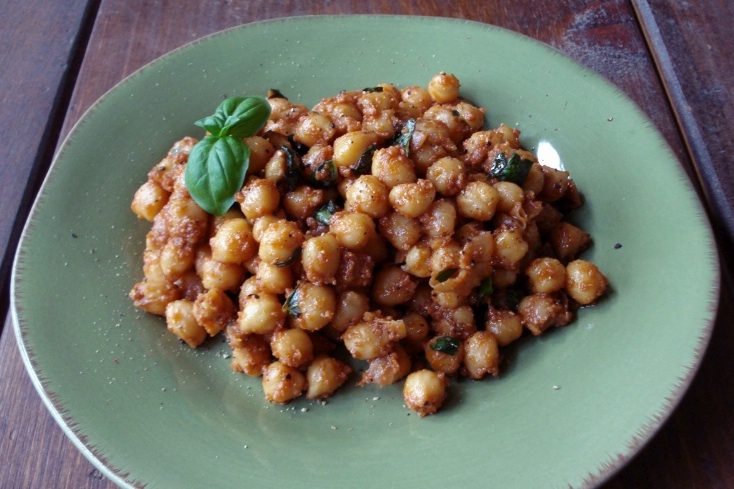 5 large sun-dired tomatoes packed in oil, drained
1 small garlic clove
1 TBSP red wine vinegar
1/4 cup extra virgin olive oil
pure salt & freshly ground black pepper
3 cups cooked chickpeas (or roughly 2 cans)
2 TBSP minced fresh basil or parsley (or more!)
Place the sun-dried tomatoes, garlic & vinegar in a food processor.
Process, scraping down the sides of the bowl as needed, until the ingredients are minced.
Add the oil & process until smooth.
Scrape the dressing into a large serving bowl.
Stir in the salt & pepper to taste.
Add the chickpeas & basil & toss to coat the chickpeas well w/ the dressing.
Marinate at room temp for at least 30 mins (up to 3 hours).
______________________________________________________________________________________
SIDE NOTES

:

~ From "The Complete Italian Vegetarian" – Delicious!

 For those with various food restrictions

, this recipe falls into the following categories:

Dairy Free, Gluten Free, Egg Free, Nut Free, Sugar Free, Grain Free, Vegan, Raw

If you're eating gluten and/or sugar free, be sure to check the labels of any packaged products (such as sun-dried tomatos and chickpeas).