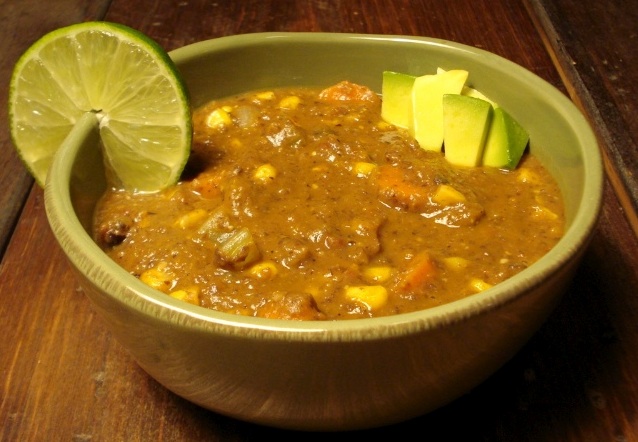 2 TBSP coconut oil (or extra virgin olive oil)
between 1 and 1 & 1/2 cups of onion, chopped
3 large garlic cloves, chopped
1/2 tsp pure salt
freshly ground black pepper to taste
1 & 1/2 cups celery, chopped (roughly 4 big stalks)
1 & 1/2 cups carrots, chopped (roughly 3 big carrots)
4 tsps ground cumin
1 tsp mustard seeds
1 tsp ground coriander
1/4 tsp ground cardamon
between 1/4 & 1/3 cup sundried tomatoes, chopped
2 cans black beans
2 cups vegetable or chicken broth
1 & 1/2 cups water
2 TBSP balsamic vinegar
2 tsp tamari/soy sauce
between 1/2 & 1 tsp chipotle hot sauce or chipotle powder (optional)
2 bay leaves
1 & 1/2 cups frozen corn kernels
lime wedges
avocado
Heat oil in a large pot over medium heat.
Add the onions, garlic, sea salt, & black pepper.
Stir, cover, & let cook for a few minutes.
Add the celery, carrots, spices & sundried tomatoes.
Stir again, cover & let cook for 5 – 7 minutes, until the veggies start to soften.
Add the beans, broth, water, balsamic vinegar, tamari, hot sauce & bay leaves.
Increase heat to bring to a boil, then reduce heat to medium-low & let simmer for 15 – 20 mins.
Remove bay leaves.
Using a stick blender, puree the soup until it's somewhat smooth but still has some texture.
Stir in the corn.
If you want to thin out the soup, add an additional 1/2 c up water at this time. Cover & let the soup simmer for another few minutes.
Serve with avocado slices & lime wedges to squeeze over the top.
______________________________________________________________________________________
SIDE NOTES

:

~ Adapted from "Vive le Vegan"

~ I usually get turned off by a long list of ingredients, but I always scan the list to see how much actual chopping there is. 16 of the ingredients up there only involve something like taking the lid off of a jar. So, that leaves the onion, garlic, carrots & celery to chop up. Not any different than most recipes I use. The sundried tomatoes get thrown in the mini-food processor, so that's easy. Once everything is simmering in the pot, it's not much work to cut a few lime wedges & avocado. So, all in all, this is not as involved as it looks at first glance, and of course, it's extremely tasty or I wouldn't be posting it!

~ Author did not specify on the sundried tomatoes – whether to use dry or in oil. I used they oily kind because that's what I had. Would be fine either way.

~ If you'll be serving kids, don't add the chipotle hot sauce (or powder).  You can add it later to your personal portion if desired. Alternately, you can use "liquid smoke" which will give it that same smokey quality without the heat.

~ The lime wedges are a must (we think). Reeeealy enhances the flavor of this smoky, spicy soup. LOVED the avocado as well, but if you don't have one on hand, it's not crucial.

~ You can make this soup as smooth or chunky as you like. I puree it about 60-70%

 For those with various food restrictions

, this recipe falls into the following categories:

Dairy Free, Gluten Free, Egg Free, Nut Free, Sugar Free, Grain Free, Vegan, Raw

Always check the labels of any canned goods you're using (sundried-tomatoes, beans, broth, hot sauce…) if eating gluten and/or sugar free (and be sure to use a gluten free tamari if necessary).