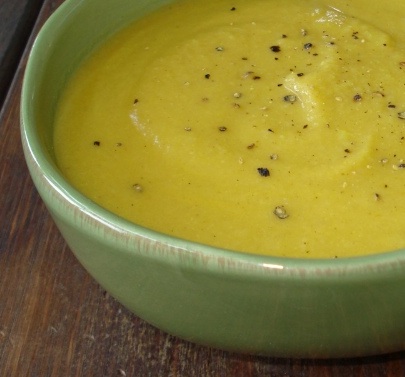 2 TBSP coconut oil (or extra virgin olive oil)
1 small onion, chopped (1 cup)
1 medium tart apple such as granny smith, peeled, cored & chopped (1 cup)
1 TBSP curry powder
1 clove garlic, sliced
1 large head cauliflower, coarsely chopped (about 6 cups)
4 cups (32 oz) veggie or chicken broth
1 tsp honey (or a 2 drops of liquid stevia)
1 tsp brown rice vinegar
pure salt to taste
Cook onion in oil over medium-high heat for 5 – 7 mins.
Stir in the apple, curry powder & garlic & cook 2 mins more.
Add cauliflower & broth & bring to a simmer.
Cover, reduce heat to medium-low & simmer 20 mins.
Cool 20 minutes (uncovered).
Puree using immersion blender until smooth (or transfer to regular blender).
Stir in honey & vinegar & season w/ salt if desired.
______________________________________________________________________________________
SIDE NOTES

:

~ Adapted from "Vegetarian Times" magazine

~ This soup is very tasty & easy to prepare. It will feed a family of 4 on its own for lunch, or more if serving as an appetizer or side dish.

~ I bow down to my immersion blender when making creamy soups like this. If you're unaware of their existence…..It's a "stick" type blender that purees beautifully, right in the soup pot (without the inconvenience of having to slop soup back and forth in batches to a regular blender). They're relatively inexpensive (about 30 bucks).

~  This soup pairs up nicely with EASY-CURRIED-LENTILS.

 For those with various food restrictions

, this recipe falls into the following categories:

Dairy Free, Gluten Free, Egg Free, Nut Free, Sugar Free, Grain Free, Vegan, Raw

If eating sugar free, use stevia instead of honey.  Always check the labels of any canned goods you're using (such as broth…) if eating gluten and/or sugar free.