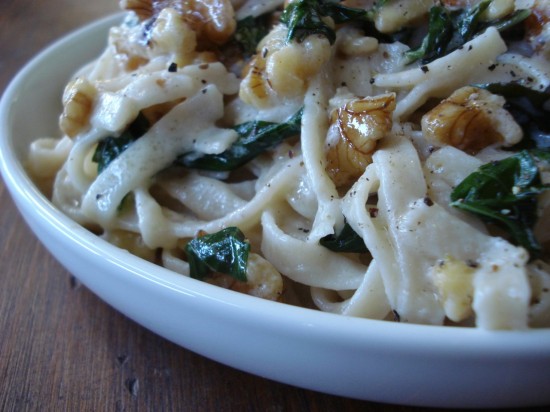 1/2 cup chopped walnuts
3 TBSP butter
2 TBSP chopped fresh basil (or more)
1/2 cup mascarpone cheese (Italian cream cheese)
pure salt & freshly ground black pepper
1 pound whole grain fettuccine
Boil water for pasta.
Place walnuts in a skillet over medium heat, and toast, shaking the pan occasionally to turn the nuts (until fragrant, about 5 mins).Transfer to a separate bowl.
Melt butter in the same skillet.
Add the nuts & basil & cook just until heated through.
Add salt (1/2 tsp give or take) and pepper to the walnut mixture & stir to combine.
Place the mascarpone in a bowl large enough to hold the pasta when cooked.
Stir the walnut mixture into the mascarpone.
When water comes to a boil, add 1 TBSP salt & the pasta.
Cook until al dente & then drain, reserving 1/4 cup of the cooking liquid.
Toss the fettuccine, still dripping w/ cooking water, with the walnut sauce & mix well.
Add as much reserved cooking liquid as needed to thin the sauce to the desired consistency.
Serves 4.
______________________________________________________________________________________
SIDE NOTES:
~ From "The Complete Italian Vegetarian Cookbook."  To me, it's like "grown-up" mac & cheese.  True comfort food.
~ Can use parsley instead of basil.
~ Mascarpone cream cheese comes in a tub like regular cream cheese & you should be able to find it at the regular grocery store (with the fancier cheeses in the deli section). Author says "processed American cream cheese can not be substituted". It definitely has a very different texture and taste, so I agree. It is delicious!  Use half of an 8 oz tub of mascarpone for this recipe, or the whole tub if doubling.
~ Note to self: Cook Tinkyada brown rice fettucine for 8 minutes (contrary to package directions).
 For those with various food restrictions

, this recipe falls into the following categories:

Dairy Free, Gluten Free, Egg Free, Nut Free, Sugar Free, Grain Free, Vegan, Raw

If eating gluten free, use an appropriate pasta (brown rice pasta is our personal preference).