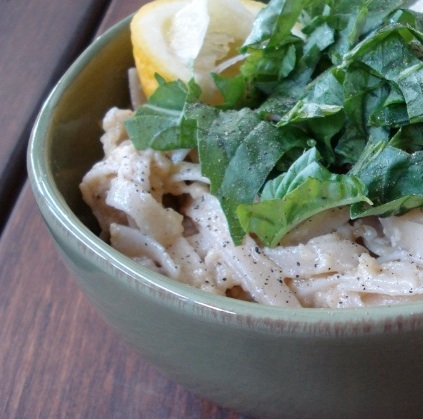 1 cup pine nuts
1 TBSP sweet white miso
2 cloves garlic, quartered
2 tsps umeboshi vinegar
1 tsp brown rice syrup (or 1 or 2 drops of liquid stevia)
1/4 cup extra-virgin olive oil
3 TBSP (more or less) water
8 oz whole grain pasta
While pasta is cooking, place nuts, miso & garlic in a food processor.
With motor running, slowly add all the liquid ingredients, except water, and process until blended.
Add water in small amounts to adjust the consistency, keeping the sauce fairly thick.
Drain noodles (do not rinse) and toss immediately with sauce & serve.
Makes 2 or 3 servings.
______________________________________________________________________________________
SIDE NOTES

:

~ From "Cooking the Whole Food Way" – Easy easy easy. Sort of a cross between a pesto & an alfredo.

~  If your food processor doesn't allow adding ingredients while running, just add everything together and blend.

~ Lemon juice squeezed over the whole dish just prior to serving is very nice. We also really like lots of fresh basil tossed into this dish.

 For those avoiding certain foods

, this recipe falls into the following categories:

Dairy Free, Gluten Free, Egg Free, Nut Free, Sugar Free, Grain Free, Vegan, Raw

If eating gluten free, use an appropriate pasta (we like brown rice pasta).  If eating strictly sugar free, use stevia instead of brown rice syrup.