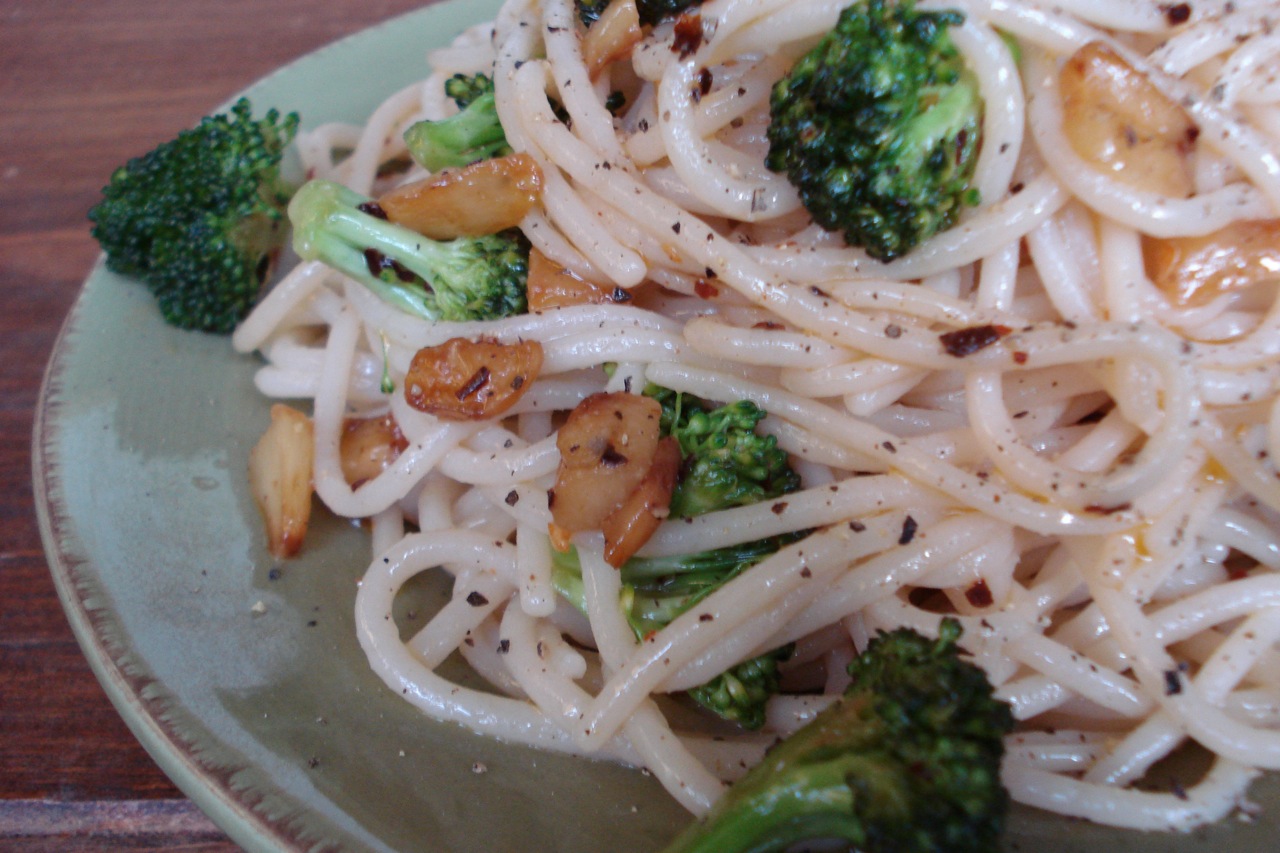 butter, ghee, or extra virgin olive oil
lots of garlic
crushed red pepper (optional)
1 large head of broccoli
1 lb whole grain pasta
pure salt & freshly ground pepper to taste
Boil water for the pasta.
In the mean time, chop broccoli into bite size pieces & set aside.
Chop garlic into chunks & saute in butter or olive oil (in large saute pan) over medium heat for a few minutes.
Shake in some crushed red pepper (if using).
Add pasta to the boiling water with 1 TBSP of salt and cook until al dente.
Add broccoli & continue sauteing for 3 – 5 minutes (may need to add more butter or another swirl of olive oil).
Add salt & saute for a few mins more.
Remove from heat & cover pan.
Let sit covered until the pasta is ready (to steam/soften the broccoli) which should only be a few minutes at that point.
Drain & rinse pasta & add to saute pan.
Remove from heat, add a swirl of olive oil, & toss to combine thoroughly.
Adjust salt & pepper to taste.
______________________________________________________________________________________
SIDE NOTES

:

~ Of course, use any shape pasta you'd like.

~ We use, i don't know… maybe 5 – 8 cloves of garlic depending on how big they are. Up to you.

~ You want the broccoli bright green, so don't over-cook – keep your eye on it!

~ Rinse pasta very well before adding to saute pan, as sticky/starchy pasta brings this dish down several notches.

~ If you're serving little ones, don't use crushed red pepper while cooking. Add it after the fact, to individual bowls.

 For those with various food restrictions

, this recipe falls into the following categories:

Dairy Free, Gluten Free, Egg Free, Nut Free, Sugar Free, Grain Free, Vegan, Raw

If eating gluten free, be sure to use an appropriate pasta (our preference is brown rice pasta).  If eating dairy free, use olive oil instead of butter.