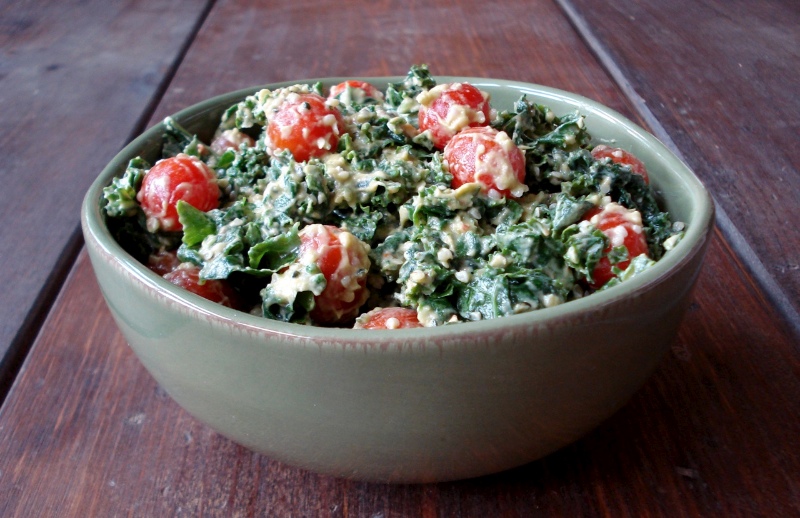 1 bunch of kale, stems removed & roughly chopped
1/2 tsp pure salt
1 cup grape tomatoes (more or less) (can slice them in 1/2 or leave whole)
1/4 cup hemp seeds
For the Dressing

:

1 avocado (or substitute tahini)
1/2 of a chipotle pepper (see notes below)
2 TBSP extra virgin olive oil
1 TBSP lemon juice
1/2 TBSP honey (or a drop or 2 of liquid stevia)
Place kale into a large bowl, add salt and start to "massage" the kale until it wilts and takes on a cooked texture.
Add the tomatoes and hemp seeds to the bowl and mix.
Blend all dressing ingredients in a high-speed blender (or food processor) until creamy and mix into kale.
Serves 1 or 2.
______________________________________________________________________________________
SIDE NOTES

:

~ Adapted from http://therawchef.blogs.com/russell_james/2006/11/wilted_kale_sal.html. I have scaled the recipe down as I don't think anyone making this for the first time wants to make such a large quantity (I didn't anyway). I think the only thing I changed was the salt. I found it too salty, so reduced it a bit (though the salt is what gives the kale its good texture so don't eliminate it completely). You can play around & see what works for you. At any rate, this is DEFINITELY worth a try as it is sooooooo good.

~ Hemp seeds are one of the few vegetarian 'complete' protein sources. They contain all of the essential amino acids. They are tasty, and surprisingly for their size, soft & chewable (as opposed to sesame, flax & poppy seeds that are hard & difficult to break down by chewing).

 For those with various food restrictions

, this recipe falls into the following categories:

Dairy Free, Gluten Free, Egg Free, Nut Free, Sugar Free, Grain Free, Vegan, Raw

If eating sugar free, use stevia instead of honey.  If eating strictly raw, substitute a mixture of cumin, chili powder, garlic powder and unpasteurized soy sauce for the chipotle peppers.

~ Chipotle peppers are smoked, dried jalapenos. You can find them in the produce section of your regular grocery store. Would be in a plastic bag, probably hanging on the side of a display with other dried peppers & similar items. The first few times I made this recipe I mistakenly used canned chipotles in adobo sauce (as I couldn't find the dry ones). Don't do that, as the adobo sauce changes the recipe for the worse. I finally just asked my produce guy & he pointed out where the dried ones were (I had passed by them a million times but somehow never noticed them). If you can't find them substitute a mixture of onion powder, cumin, chili powder, garlic powder and tamari to help replicate that smokey flavor.

Pictured below:  Chipotle peppers and hemp seeds