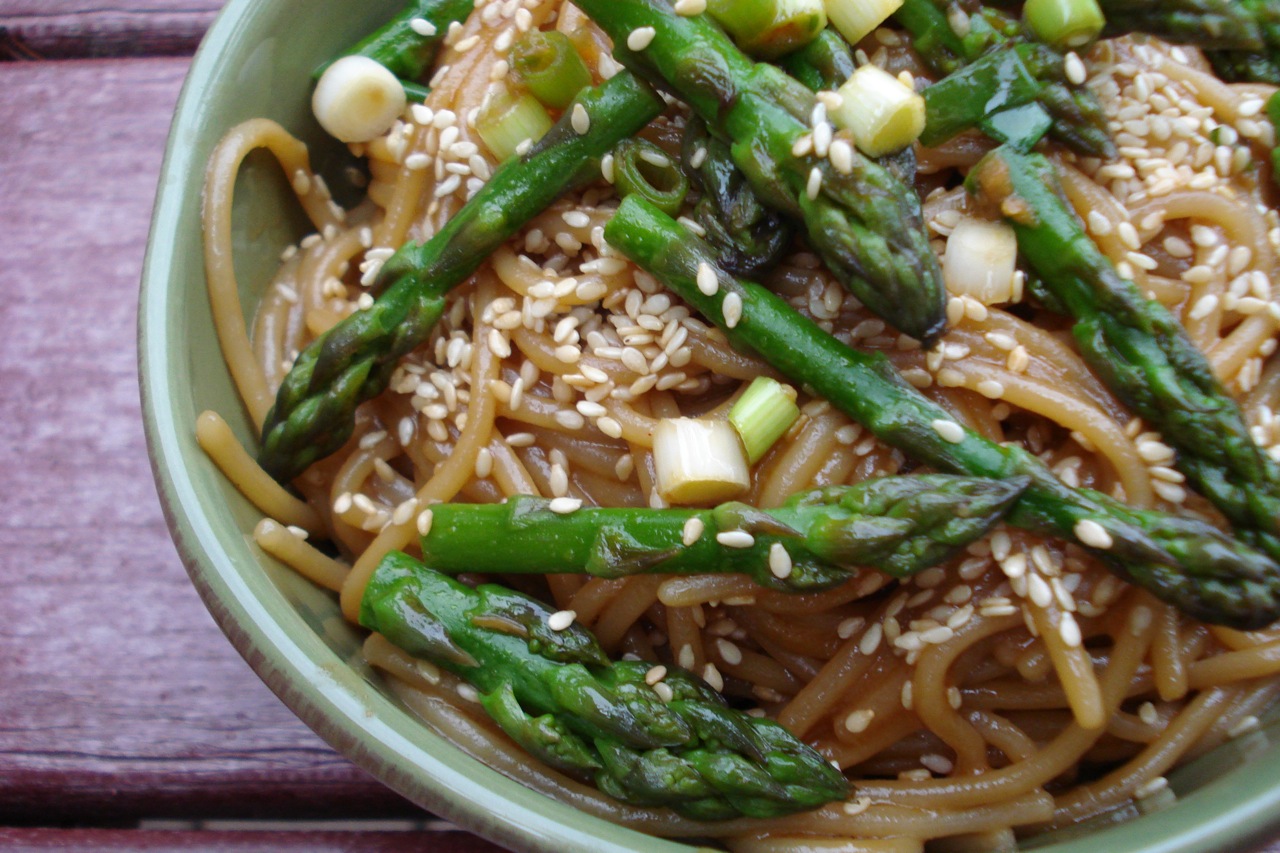 2 TBSP sesame seeds, toasted
1 pound spaghetti or linguine
For the Sauce

:

2 TBSP toasted sesame oil
1/4 cup tamari/soy sauce
2 TBSP water
2 TBSP mirin
a pinch of cayenne
8 drops liquid stevia (optional)
For the Asparagus

:

1 TBSP coconut oil
2 garlic cloves minced
1/4 tsp ground ginger powder
1 bunch asparagus, cut into 2-inch lengths
1/4 cup water
1 tsp tamari/soy sauce
2 scallions or chives thinly sliced (optional)
Toast sesame seeds & pour them into a small bowl to cool.
Combine sesame oil, soy sauce, water, mirin, cayenne & stevia in small bowl & set aside.
Start cooking pasta.
Heat coconut oil in large saute pan over medium heat.
Add garlic & ginger & cook 1 min.
Add asparagus & stir fry 1 min more.
Pour in the water & cover pan.
Cook covered until asparagus is tender, but still bright green (about 4 mins).
Add soy sauce (1 tsp) & scallions (if using) into saute pan with asparagus.
Drain noodles & return to same pot you cooked them in. Pour sauce over noodles & toss well to combine.
Serve noodles with asparagus over the top and garnish with sesame seeds.
______________________________________________________________________________________
SIDE NOTES

:

~ This is sooo easy because it's a no-cook sauce (just mixing a few things together in a bowl). It's a family favorite.

~ To toast sesame seeds, put them in a dry skillet over low heat & cook for a few minutes, stirring frequently to avoid burning. Sometimes you can purchase sesame seeds pre-toasted.

~ If you happen to have some on hand, you can use veggie broth instead of water.

~ Mirin is a sweet Japanese rice wine (will be in a bottle similar to soy sauce, and near the soy sauce for that matter). Check your local health food store if your regular supermarket doesn't have it – as the dish is not the same without it. If you can find it, I recommend Eden brand, as some of the others contain undesirable additives. And in fact, years ago, when I first started making this recipe, unknowingly, I was using a brand that contained a low-fi sweetener. When I switched to Eden's mirin, we missed the slight sweetness to this recipe so that's why I started using a little bit of stevia. I like "SweetLeaf's Stevia Clear".  If you prefer to use sugar, you can try using about one TBSP.

~ It's spicy with the cayenne, so best to serve kids before mixing it in. Just to give you an idea – an eighth of a tsp makes this dish very spicy – ok for adults who like a lot of heat, but not so much for the kids.

 For those with various food restrictions

, this recipe falls into the following categories:

Dairy Free, Gluten Free, Egg Free, Nut Free, Sugar Free, Grain Free, Vegan, Raw

If eating gluten free, use an appropriate pasta (brown rice pasta is our personal preference), and a gluten free tamari.  Also, be sure to double check labels of any packaged products such as mirin.  If on a strictly sugar free diet, be careful with your choice of mirin.