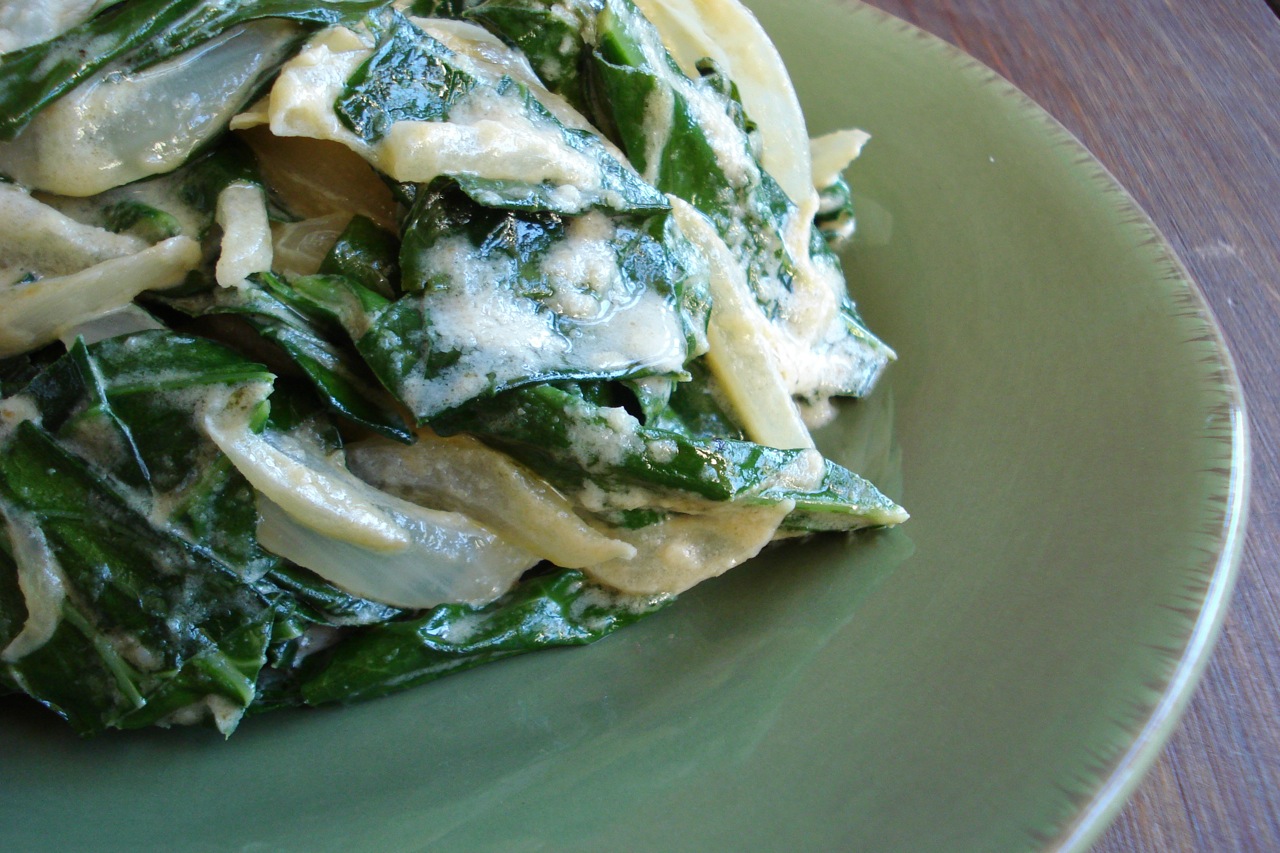 2 TBSP coconut oil
1 medium onion, sliced thinly
1 bunch collard greens
3 TBSP tahini
6 TBSP water
1 TBSP ume plum vinegar
drizzle of toasted sesame oil
Rinse and chop greens & set aside.
Heat coconut oil in saute pan, add onion and cook gently over medium low heat until translucent (approx 10 mins).
Add greens and stir well.
Cook until wilted & softened (approx 10 mins).
In the mean time, make sauce by combining tahini, water & vinegar in a small bowl.
When the greens are just about done, pour half of the sauce into the saute pan & mix thoroughly until greens are coated.
Remove pan from heat and drizzle a few swirls of toasted sesame oil over the top, mixing to combine.
Drizzle remaining sauce over each portion of greens as serving.
Serves 2.
______________________________________________________________________________________
SIDE NOTES

:

~ This recipe was given to me many years ago by friend Kate Gilday (thanks!). My kids go crazy for it. One of our favorite ways to eat greens (tied with garliky greens!).

~  Greens tend to cook down quite a bit.  It may look like a lot when you start, but don't be fooled.  Double this recipe to feed a family of 4 (as a side dish).

~ The toasted sesame oil is a must (really adds flavor). Sometimes (if I happen to have it on hand) I use Eden's hot pepper toasted sesame oil which gives it a mild kick.

~ An easy way to cut the greens…. place the leaves on top of each other & roll tightly (long ways). Holding on to the stems with one hand, make 2 cuts (again, longways, but not all the way to the stems). While still holding the leaves firmly together, now you can cut the other way (as if you were cutting a sushi roll). Then cut the bottom stems off & discard.

~ For those who don't know, tahini is a creamy paste of sorts (like peanut butter) made from sesame seeds.

~ Careful not to overcook the greens….It's best to make sure your other dishes (if any) are ready (or just about ready) when you add the greens to the pan. If you cook the greens too early & they sit in the pan for an additional 15 minutes, even though you turn off the heat, they'll continue to cook & they might turn into mush. 10 mins on med-low heat seems to be just right (I keep the burner on 3).

~ UME PLUM VINEGAR (sometimes called umeboshi vinegar) is made from Japanese ume plums. It's actually not a true vinegar, but a brine. If you want a few reasons why you should go out of your way to use this particular vinegar, here's a little info….."Besides their dramatic flavor, Japanese pickled plums have remarkable medicinal qualities. Their powerful acidity has a paradoxical alkalizing effect on the body, neutralizing fatigue, stimulating digestion, and promoting the elimination of toxins. This is the Far Eastern equivalent to both aspirin and apple; not only is it a potent hangover remedy for mornings after; more than that, an umeboshi a day is regarded as one of the best preventive medicines available. Ume plum vinegar contains many of the healing qualities and nutrients associated with pickled plums, and it is easy and convenient to use. Both pleasantly tart and salty, use it to liven up salad dressings, sauces, soups, marinades, and homemade pickles. It adds a pleasantly pungent flavor to cooked leafy greens and other vegetables." So…. you can probably substitute with another vinegar if you'd like, but we think it's worth a trip to the local health food store to get a little umeboshi in your life here & there when you can. If you do use a substitution, keep in mind that unlike regular vinegar, umeboshi is salty, so you might need to add a little salt as well.

 For those with various food restrictions

, this recipe falls into the following categories:

Dairy Free, Gluten Free, Egg Free, Nut Free, Sugar Free, Grain Free, Vegan, Raw