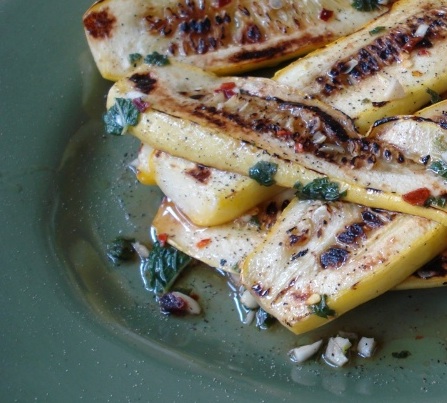 2 pounds summer squash, sliced lengthwise, 1/2 inch thick
2 TBSP lemon juice
2 TBSP fresh mint leaves, torn into pieces
2 garlic cloves, finely chopped
1 tsp pure salt
1/2 tsp crushed red pepper flakes
3 TBSP extra virgin olive oil
freshly ground black pepper
Warm a large (dry) skillet or griddle over medium heat.
Arrange the squash in a single layer & sear until speckled w/ brown & beginning to blacken, about 5 mins.
Flip the squash & cook for 4 – 5 mins more.
Repeat w/ remaining squash.
In a serving bowl, combine the lemon juice, mint, garlic, salt & red pepper & let marinate for 5 mins.
Whisk in the oil.
Transfer seared squash to the bowl, toss to coat w/ the dressing, and let sit for about 5 mins. Add black pepper & serve.
______________________________________________________________________________________
SIDE NOTES

:

~ From "Fresh Food Fast"

~ When the zucchini comes in, there's usually quite a bit of it, so it's nice to find many different ways to use it! =)

 For those avoiding certain foods

, this recipe falls into the following categories:

Dairy Free, Gluten Free, Egg Free, Nut Free, Sugar Free, Grain Free, Vegan, Raw