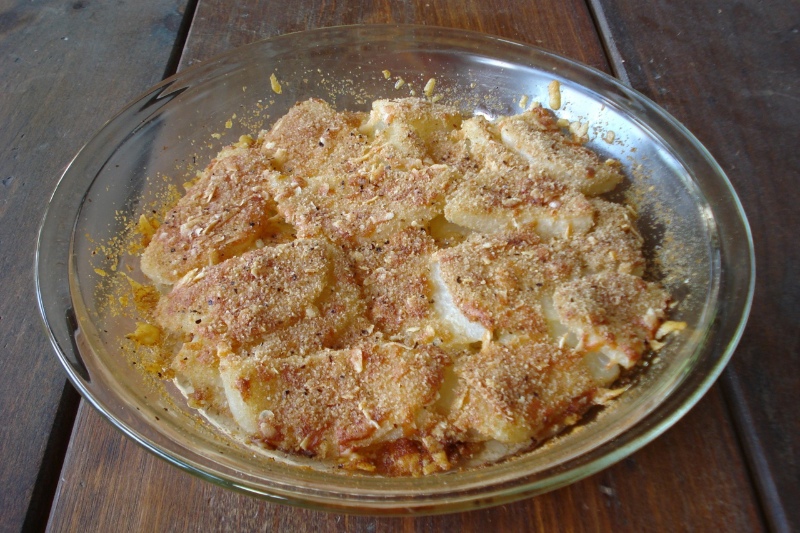 butter for greasing pan
bread crumbs for dusting pan
3 cups, peeled, sliced kohlrabi (approx. 1/4 inch thick pieces)
1 TBSP butter, melted
2 TBSP grated parmesan
1 TBSP (or more) unflavored, whole grain bread crumbs
1/8 tsp black pepper
Preheat oven to 350.
Grease an 8 or 9 inch round pie dish with butter & dust w/ bread crumbs.
Cook the kohlrabi in boiling water until just tender, about 7 – 10 mins, & drain.
Toss with the melted butter.
Place the kohlrabi in the prepared pan, then sprinkle with parmesan, 1 TBSP bread crumbs, & black pepper.
Bake 1 hour or until topping is browned.
______________________________________________________________________________________
SIDE NOTES

:

~ I had never heard of kohlrabi until I started receiving it a few years ago from our CSA farm. It's an interesting looking vegetable! The skin is bright purple, but after you peel it, it looks like a white potato. To me, it has a flavor reminiscent of cauliflower.

 For those with various food restrictions

, this recipe falls into the following categories:

Dairy Free, Gluten Free, Egg Free, Nut Free, Sugar Free, Grain Free, Vegan, Raw

If eating gluten free, be sure to use gluten free bread crumbs or make your own.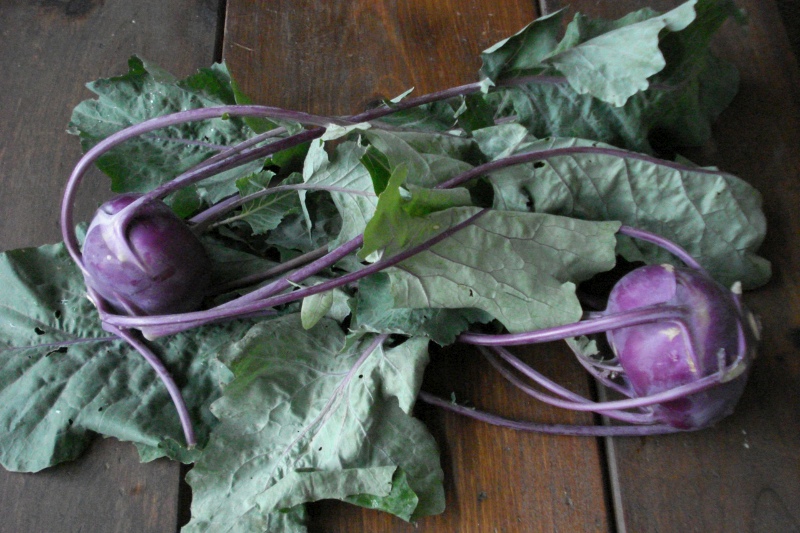 ~ As shown below, the leaves can be prepared as you would any greens. They were great sauteed w/ garlic, olive oil, salt & pepper & tossed with whole grain orzo pasta (as shown above). If you use the purple stems, make sure you put them in the pan first as it will take longer for that part to become tender enough to chew. Otherwise, just discard the stems & only use the green part.