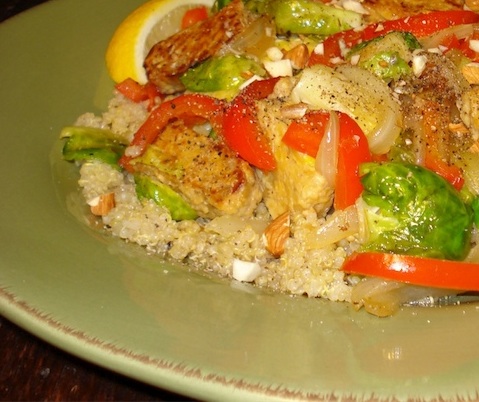 For the Quinoa

:

1 TBSP butter, ghee, or coconut oil
1/2 tsp pure salt
1 & 1/2 cups quinoa
For the Vegetables

:

1/3 cup butter, ghee, or coconut oil
2 cups thinly sliced onions
1/2 tsp caraway seeds (optional)
1 (8 oz) package soy tempeh, sliced into bite-sized pieces
1 red bell pepper, seeded & thinly sliced
1 pound brussels sprouts, trimmed & cut lengthwise into thirds
1/4 cup tamari/soy sauce
2 TBSP mirin
pure salt & freshly ground black pepper to taste
1/2 cup chopped toasted almonds (optional)
lemon wedges for serving
To Prepare the Quinoa

:
Rinse the quinoa well in a fine, mesh strainer.
In a medium saucepan over high heat, combine the butter & salt w/ 2 & 1/2 cups of water & bring to a boil.
Reduce heat to low & stir in the quinoa.
Cover the pot & simmer for 18 mins.
Turn off the heat & set aside, covered for about 3 mins.
Fluff w/ a fork before serving.
To Prepare the Vegetables

:
In a large saute pan over medium heat, warm the oil.
Add the onion & caraway seeds if using & saute for 2 mins.
Add the tempeh & peppers.
Cook, stirring occasionally, until the tempeh begins to caramelize and brown, about 2 mins.
Add the brussels sprouts, 1 cup of water, the soy sauce & mirin & bring to a boil.
Reduce the heat & simmer, covered, for 10 mins.
Season w/ salt & pepper to taste.
Serve the brussels sprouts over the quinoa, sprinkled with toasted almonds & accompanied by lemon wedges.
______________________________________________________________________________________
SIDE NOTES

:

~ Adapted from "Fresh Food Fast"

~ I cook the tempeh a little longer than suggested, until it's somewhat browned.

~ Mirin is in a bottle similar to soy sauce & can be found in the asian aisle of the grocery store or health food store. It's a sweet japanese rice wine.

~ If you want to toast the almonds yourself….. Place them in a rimmed baking sheet & bake @ 350 for 8 – 10 mins (stirring halfway through).

 For those with various food restrictions

, this recipe falls into the following categories:

Dairy Free, Gluten Free, Egg Free, Nut Free, Sugar Free, Grain Free, Vegan, Raw

If eating dairy free, use coconut oil instead of butter.  If eating gluten free, be sure to use "soy" tempeh, and a gluten free tamari (also, Eden's mirin is gluten & sugar free).  If avoiding nuts, omit the almonds (can substitute sunflower seeds if desired).