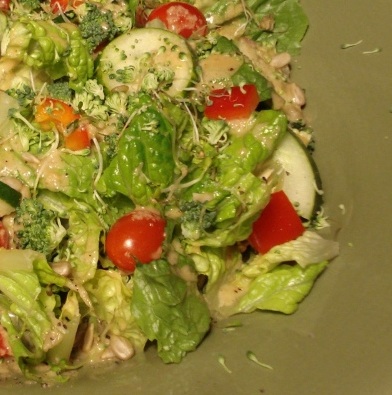 1/2 cup water
1/2 cup tahini
1/3 cup apple cider vinegar
1 small clove garlic, minced (or pressed)
1 & 1/2 TBSP honey (or approx 9 drops of liquid stevia)
3 TBSP tamari/soy sauce
2 tsp high-quality, dijon mustard
3 tsp toasted sesame oil
1/4 tsp pure salt (more or less)
Whisk all ingredients together.
Store any extras in the fridge.
______________________________________________________________________________________
SIDE NOTES

:

~ Adapted from "Vive le Vegan" – Our favorite salad dressing!

~ Salads are not much to speak of in & of themselves unless you've got something yummy to drizzle over the top. This dressing will do it. It can be used over salads, steamed veggies or cooked grains.

~ The original recipe suggests using a blender, but it works out perfectly fine to whisk in a bowl if you don't want to dirty the blender. I usually mix dressings like this in my 4 cup glass measuring cup. This makes it easy to pour (as it's got a spout) into another container when I'm done mixing.

 For those with various food restrictions

, this recipe falls into the following categories:

Dairy Free, Gluten Free, Egg Free, Nut Free, Sugar Free, Grain Free, Vegan, Raw

If you're eating gluten free, be sure to check your mustard ingredients. If eating sugar free, use stevia instead of honey.  If eating raw, choose your ingredients carefully – raw tahini, raw honey, Oshawa unpasteurized soy sauce, raw apple cider vinegar, un-toasted sesame oil, and I'm not sure about the mustard – grind mustard seeds yourself I guess.

~ I like to add sunflower seeds to our salads for some nice crunch. Adding a handful of sprouts is great too – they don't taste like much, but they add a whole lot of nutrition with minimal effort (no chopping or anything – just grab a handful & throw on top).