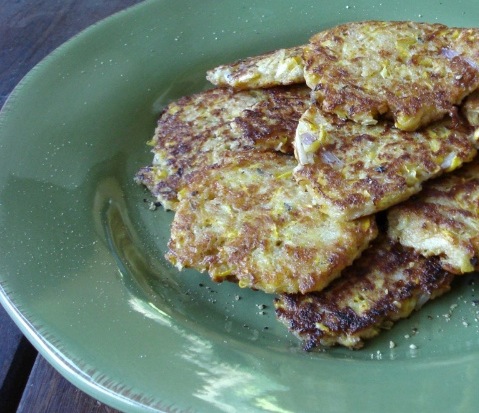 1 pound green or yellow zucchini (about 2 medium) (no need to peel)
1/2 tsp pure salt
2 eggs, lightly beaten
2 TBSP red onion, chopped (or 2 tsps dried minced onion)
1/2 cup breadcrumbs
pinch of cayenne pepper
1/2 tsp garlic powder
1/3 cup parmesan cheese (optional)
coconut oil or butter for frying
pure salt & freshly ground pepper to taste
Grate zucchini on the largest holes of a grater & combine well with salt.
Let zucchini drain in a colander for about 30 mins.
In the mean time, combine eggs, onion, breadcrumbs, cayenne, garlic powder, cheese (if using) & salt/pepper in a large bowl.
Squeeze out excess water from zucchini (can use hands or back of a big spoon)
Transfer to bowl w/ egg mixture and combine well.
Heat oil or butter in large frying pan over medium heat.
Drop in approx 1/8 cup measures of zucchini mixture (pressing down to flatten a bit with back of spoon).
Cook pancakes a few minutes on each side, until golden brown & cooked through.
Makes about 18 small pancakes.
______________________________________________________________________________________
SIDE NOTES

:

~ This is something I put together trying to creatively use up the abundant zucchini harvest. Vary the seasonings as you see fit. The kids really like them!

 For those avoiding certain foods

, this recipe falls into the following categories:

Dairy Free, Gluten Free, Egg Free, Nut Free, Sugar Free, Grain Free, Vegan, Raw

If eating dairy free omit the cheese and use coconut oil instead of butter.  If eating gluten free be sure to use gluten free bread crumbs.