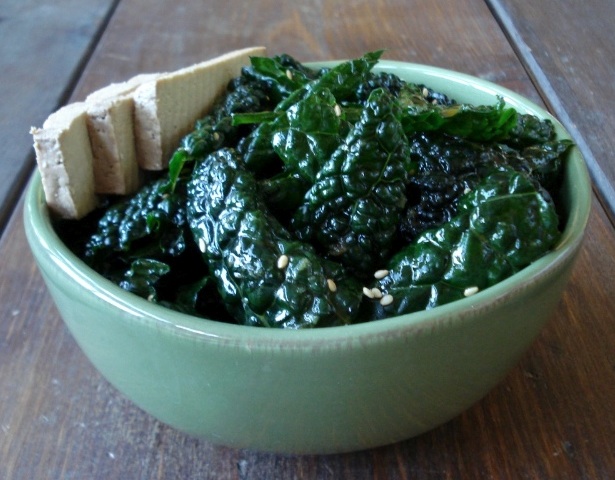 2 TBSPs extra virgin olive oil
2 tsps mirin (in a bottle similar to soy sauce in the asian aisle)
1 TBSP tamari/soy sauce
1 tsp toasted sesame oil
4 tsps brown rice vinegar
1 tsp maple syrup (or a few drops of liquid stevia)
1 & 1/2 tsps minced ginger
12 leaves lacinato kale, roughly chopped (discarding stems)
1/4 cup tamari-roasted almonds, roughly chopped (optional)
Place kale in a large bowl.
Whisk together olive oil, mirin, tamari, sesame oil, rice vinegar, maple syrup and ginger.
Pour dressing over kale.
Marinate for an hour. (optional)
When you're ready to serve, sprinkle with the tamari-roasted almonds (if using).
______________________________________________________________________________________
SIDE NOTES

:

~ Instead of the almonds, I sometimes sprinkle on some toasted sesame seeds.

~ For best results, slice the kale into thin, ribbon-like strips (though I'm usually lazy & just tear it up w/ my fingers). The flavor is more intense if you let it marinate for an hour, but I don't always think ahead & usually just toss & eat.

~ This makes a nice lunch (I cut the recipe in half if making just for myself). It's on the sweet side. You can omit the maple sugar/stevia entirely if desired.

 For those with various food restrictions

, this recipe falls into the following categories:

Dairy Free, Gluten Free, Egg Free, Nut Free, Sugar Free, Grain Free, Vegan, Raw

If you're eating gluten free, be sure to use a gluten free soy sauce and omit the tamari roasted almonds unless you know they were made with a gluten free tamari (or you can make them yourself).  If avoiding sugar, use stevia instead of sugar.  If avoiding nuts, omit the almonds (can use toasted sesame seeds instead).  Eden brand mirin is both gluten and sugar free (not all of them are).