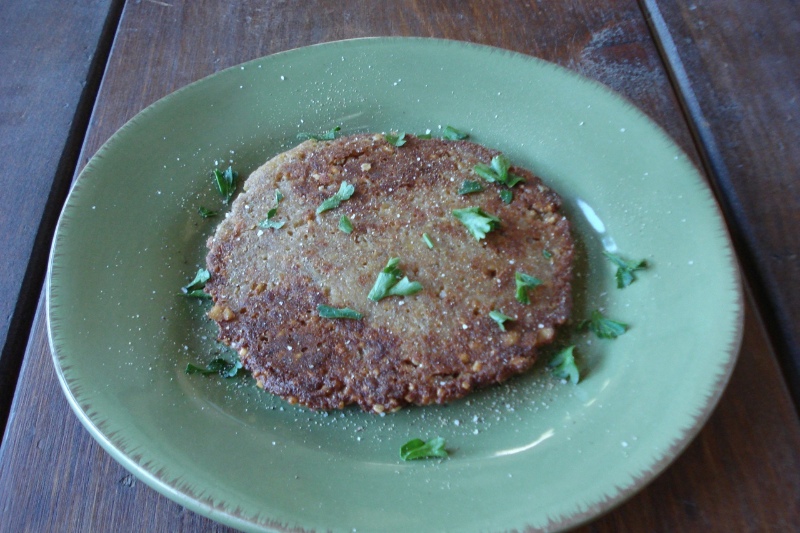 1 cup dry chickpeas soaked 24 hours
1 cup steel cut oats, soaked 4 – 8 hours
1/2 cup sunflower seeds, ground
1/2 cup whole grain flour (I use teff flour)
1 medium onion, finely chopped
2 TBSP tamari/soy sauce
2 TBSP melted butter, coconut oil, or ghee
2 tsps pure salt
1 well beaten large egg
Rinse the soaked chickpeas thoroughly.
Put the drained chickpeas in a food processor and process until coarsely ground.
Drain the oats, add them to the chickpeas & process until combined.
Add the remaining ingredients & combine.
Tear off 12 square sheets of wax paper.
Divide the bean mixture equally onto the 12 sheets.
Shape & press the mixture into patties & fold them up individually in the wax paper.
Place the burgers flat in a large ziplock freezer bag & freeze solid before cooking.
When ready to cook, take burgers directly from freezer and put them in a lightly oiled, heated pan.
Cook a few minutes on each side, until browned (time will vary depending on thickness).
______________________________________________________________________________________
SIDE NOTES

:

~ We love these patties. Similar to falafel. They do take a little advance planning due to the soaking requirements, but it's so easy to whirl everything together in the food processor, and I LOVE the fact that I can make them in advance, and just pull them out of the freezer as needed for a quick meal. You can use these as "burgers" on a whole grain bun, but we prefer them plain, as is, with a sprinkle of salt & pepper & some parsley if I happen to have it on hand. With a side vegetable and/or salad, this has become a meal we all look forward to.

~ I use my seed grinder (coffee grinder dedicated solely to seeds) to grind seeds into powder. Use a substitute if you prefer (extra flour, etc….)

~ I like to press the patties pretty thin before freezing. I also sometimes puree the onion in the food processor before I add anything else. This is just because one of the kids doesn't like to "see" onions in their food. If a recipe looks good except for 1 or 2 things, there are usually ways of adjusting to make them work for you & your family. Most of the meals I make, change & evolve over time.

~ The last couple of times, I've doubled the recipe, making 24 patties, since I prefer to do more prep work ahead of time in order to enjoy the convenience of just pulling them out of the freezer for a few months . (But it's always risky to double a recipe the first time you're trying it. If by chance, you don't like it….it's a bummer!).

 For those with various food restrictions

, this recipe falls into the following categories:

Dairy Free, Gluten Free, Egg Free, Nut Free, Sugar Free, Grain Free, Vegan, Raw

If eating gluten free, be sure to use certified gluten free oats, a gluten free tamari, and a gluten free flour such as teff.  If eating dairy free, use coconut oil instead of butter.