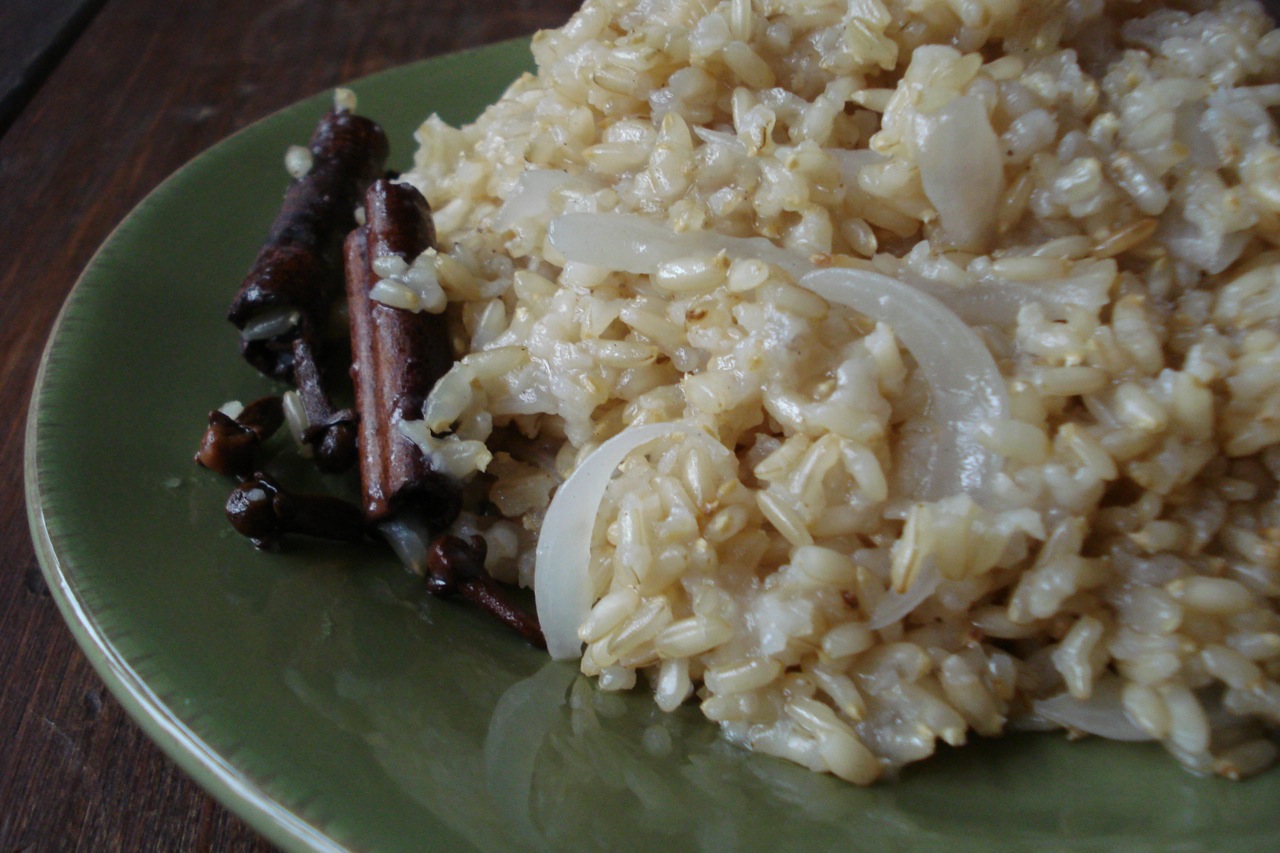 1 TBSP coconut oil, butter, or ghee
1 three-inch cinnamon stick, broken in half
2 whole cloves
a good pinch of ground cardamom
1/4 cup thinly sliced onion
1 cup white basmati rice*
1 & 1/2 cups water
1 tsp pure salt
Heat oil or butter in a medium saucepan over high heat until almost smoking.
Add cinnamon, cardamom & cloves & cook, stirring until cinnamon unfurls & cardamom & cloves pop, less than a minute.
Add onion & cook, stirring until translucent, about 2 minutes.
Add rice and cook, stirring until fragrant, about 1 minute.
Add water & salt; bring to boil.
Reduce heat, cover tightly & simmer until all water has been absorbed, (17 minutes works for us).
Let stand, covered, for 10 minutes, fluff with fork & serve.
Serves 3 as a side (I double this to feed a family of 4 w/ a little left over).
______________________________________________________________________________________
SIDE NOTES

:

~ Adapted from "The Best Recipe" cookbook. We always have this along side INDIAN-SPICED-LENTILS-W-KALE. 5 star combination!

~ Remove the cloves & cinnamon sticks before serving.

 For those with various food restrictions

, this recipe falls into the following categories:

Dairy Free, Gluten Free, Egg Free, Nut Free, Sugar Free, Grain Free, Vegan, Raw

If eating dairy free, use coconut oil instead of butter.

~ *Been making this for years & tried using brown basmati at some point but it didn't quite work. Since the cook time is about 3 times longer for brown rice, the onions almost completely disintegrated into the rice. Was disappointing for me, as I prefer brown rice to white, but really love the texture of the onions. What I was eventually able to make work was "truRoots" germinated brown rice. This type of brown rice has a cook time of only 25 minutes (instead of 50) so the onions hold up well. It's an expensive product, but keep in mind that germinated grains (& nuts/seeds) are more easily digested and more nutritious. Of course, the white basmati is delicious in this recipe, and I most often make it the original way.  I was determined though, to see if I could get it to work in some capacity for brown rice, & share the method in case anyone else was interested.  If you choose to use the truRoots version, only use the 1 & 1/2 cups of water called for. (Normally, 1 cup of truRoots rice cooks in 2 cups of water, but it will end up being too wet in this recipe where onions are included).