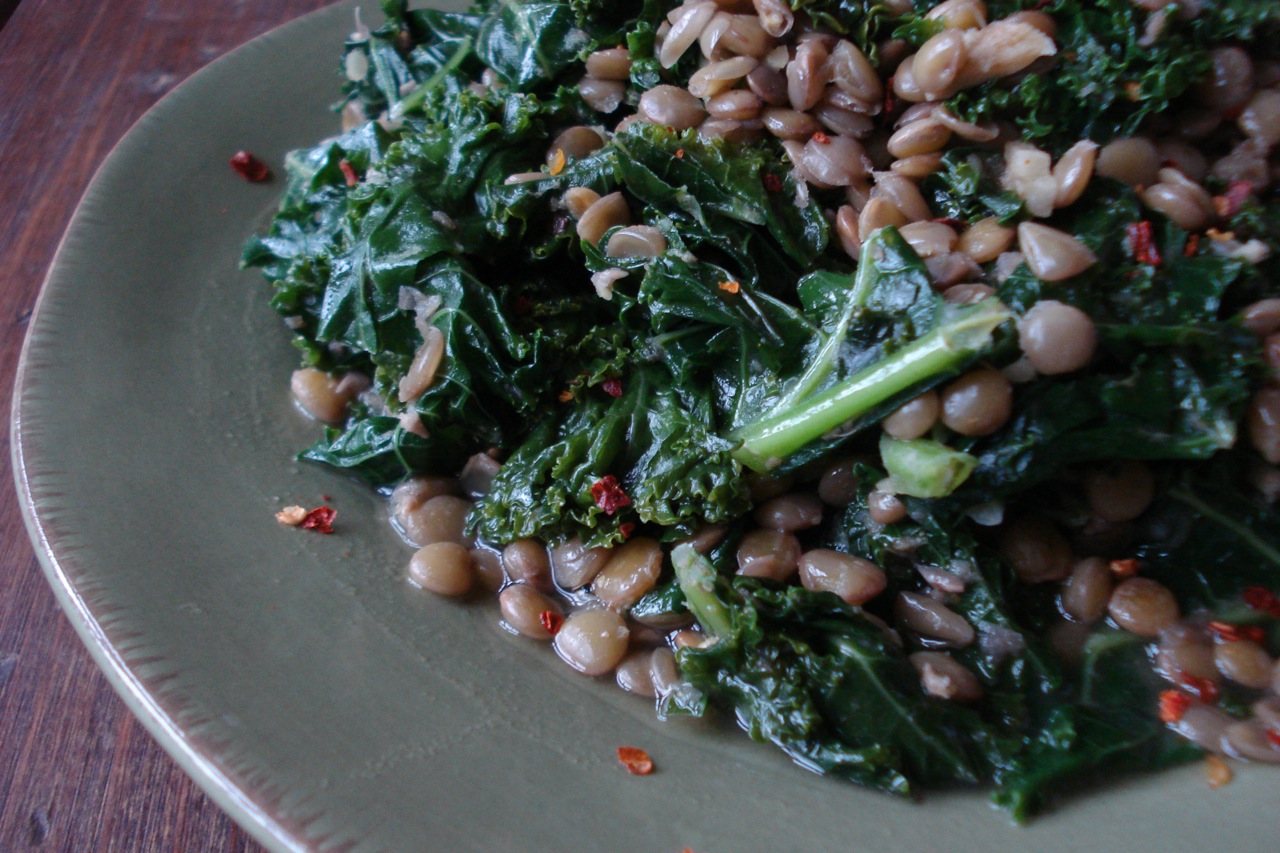 1 cup lentils (green or brown)
1 tsp pure salt
1 bunch of kale, stems removed and chopped
2 TBSP coconut oil, butter, or ghee
1 heaping tsp ground coriander
1/2 heaping tsp ground cumin
1/2 heaping tsp ground mustard
1/2 heaping tsp hot red pepper flakes
2 garlic cloves minced
2 tsps minced fresh ginger root
Bring lentils, 6 cups water, and salt to boil in medium saucepan; boil for 5 mins.
Reduce heat; simmer until lentils are tender but still hold their shape, 20 – 25 mins
Add kale during the last 5 mins of cooking.
Meanwhile, heat oil (or butter) in large skillet over medium heat.
Add coriander, cumin, mustard, & red pepper flakes; saute to combine flavors, about 1 min.
Add garlic & ginger; saute until softened and fragrant, about 2 mins.
Drain lentils, & kale and add to spice mixture.
Simmer to blend flavors, 3 – 5 mins.
Adjust seasonings and serve (serves 4).
______________________________________________________________________________________
SIDE NOTES

:

~ If you love lentils (like we do) & love Indian food (like we do) – try this recipe. So good & so healthy. Adapted from "The Best Recipe" cookbook.

~ We always have this with INDIAN-SPICED-BASMATI-RICE. Really can't have one w/o the other – at least in this house! =)

~ For the coriander, cumin, ground mustard & red pepper flakes, I use very generous spoonfuls.

~  It's ok if some of the liquid from the lentils/kale ends up in the pan.  I just transfer it with a large mesh spoon (see "favorite gadgets" page under "kitchen tips"), but you can use a strainer if easier.  The original recipe actually calls for 1 cup of the cooking liquid (from the lentils) to be reserved & added to the spice pan with the lentils.  I used to prepare it that way, but found I like it better when only a small amount of liquid gets transferred.

 For those with various food restrictions

, this recipe falls into the following categories:

Dairy Free, Gluten Free, Egg Free, Nut Free, Sugar Free, Grain Free, Vegan, Raw

If eating dairy free, use coconut oil instead of butter.