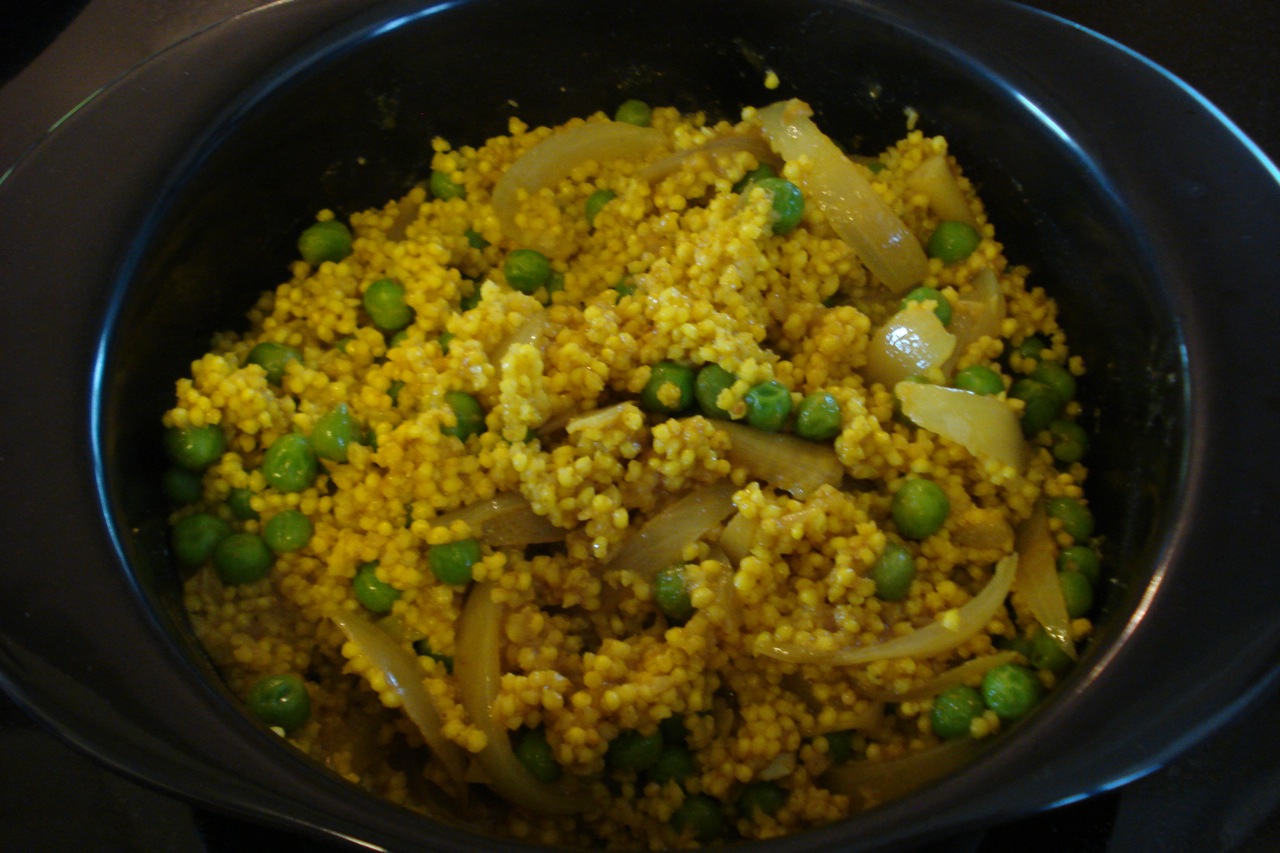 1 & 1/2 TBSP coconut oil, butter, or ghee
3/4 cup millet, rinsed in mesh strainer
3/4 cup chopped onions
2 cloves garlic, minced
1 TBSP curry powder
1/2 tsp ground cumin
1/2 tsp ground turmeric
1/4 tsp cayenne (or less if you want it milder)
1 & 1/2 cups water
1/2 tsp pure salt
1/2 cup frozen peas (optional)
In a small saucepan (1 & 1/2 quart pot works well), heat the oil or butter over medium heat.
Add the millet; cook, stirring, until the millet crackles, about 2 mins.
Add the onions & garlic; cook, stirring until veggies are softened, about 2 mins.
Add the curry powder, cumin, turmeric & cayenne & stir to combine.
Add the water & salt and bring to a boil
Reduce heat to a simmer, cover, and cook for 20 – 25 mins (until liquid is absorbed).
If using, add peas about 5 minutes before it's done cooking.
Remove from heat & let stand 5 mins before fluffing with a fork.
______________________________________________________________________________________
SIDE NOTES

:

~ From "1000 vegetarian recipes" (one of my fav cook books!).

~ It needs an extra sprinkle of salt at the table (according to my taste buds, anyway).

~ It's got a good kick to it, so cut the cayenne in half if you prefer it less spicy. My kids really like this…..even w/ the full amount of cayenne.

 For those with various food restrictions

, this recipe falls into the following categories:

Dairy Free, Gluten Free, Egg Free, Nut Free, Sugar Free, Grain Free, Vegan, Raw

If eating dairy free, use coconut oil instead of butter.