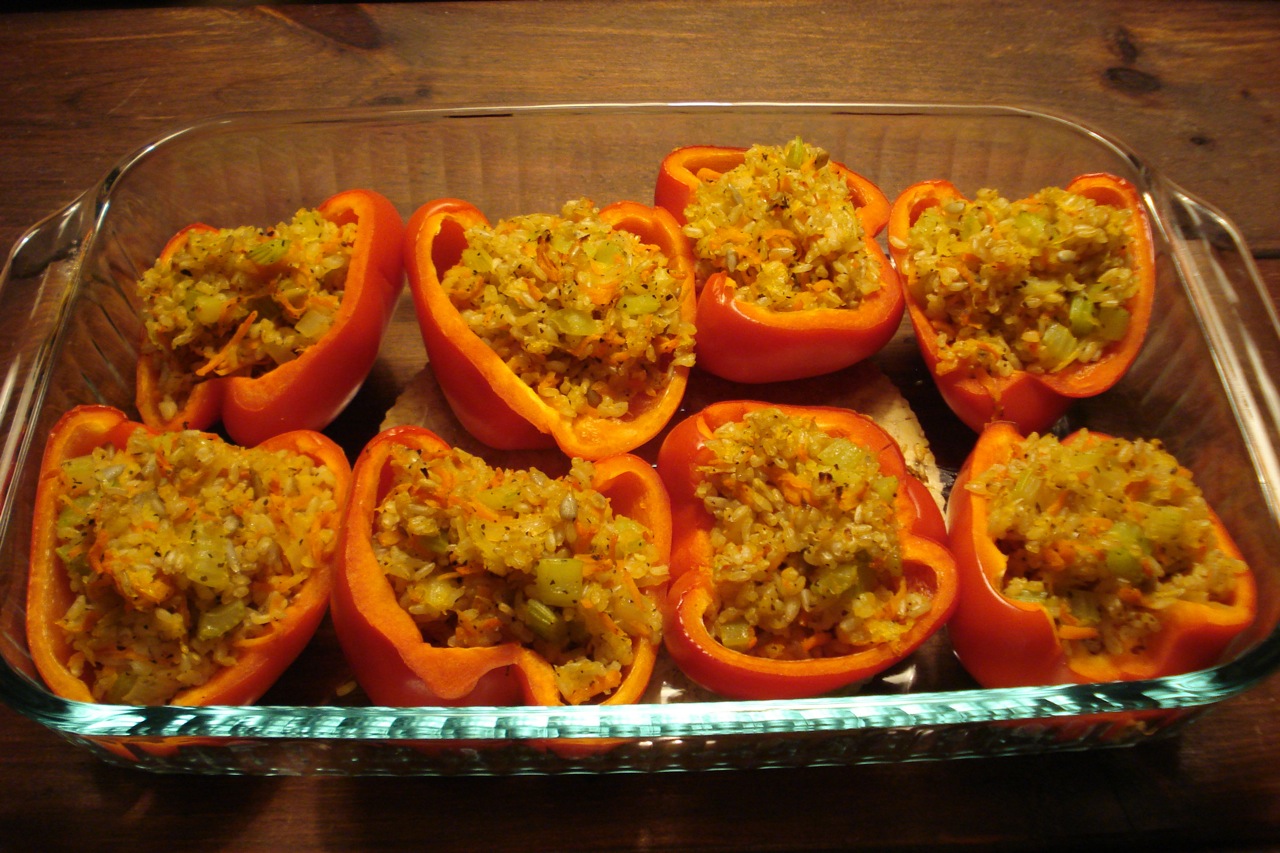 1 cup brown rice (uncooked)
1 & 1/2 TBSP coconut oil, butter, or ghee
1 large onion, finely chopped
1 cup grated carrot
1 cup finely chopped celery
1 tsp pure salt
freshly ground black pepper to taste
1 tsp dried basil
2 TBSP sunflower seeds
several dashes of cayenne (optional)
4 large red bell peppers, cut in half lengthwise & seeded
Preheat oven to 350.
Cook rice according to package directions.
In a large skillet, heat oil over medium heat and saute the onion, carrot & celery for a few mins, stirring regularly.
Mix in spices and sunflower seeds, and cook another few mins.
Add cooked rice and saute for 3 or 4 mins more, stirring constantly (so the rice doesn't stick to the bottom & burn).
Place the peppers in a baking dish (9×13 pyrex works well), and fill with heaping amounts of stuffing.
Fill the bottom of the baking dish with about 1/2 inch of water. Bake until the stuffing is slightly browned & the peppers tender, but still a little crisp – about 20 – 25 mins.
______________________________________________________________________________________
SIDE NOTES

:

~ Shooting the onions/carrots/celery through the food processor's chopping or grating blades works well if you're short on time or just not in the mood to chop.

~ Can also use this as a stuffing for acorn squash, and as a matter of fact, the stuffing is actually great on its own as a side dish.

 For those with various food restrictions

, this recipe falls into the following categories:

Dairy Free, Gluten Free, Egg Free, Nut Free, Sugar Free, Grain Free, Vegan, Raw

If eating dairy free, use coconut oil instead of butter.