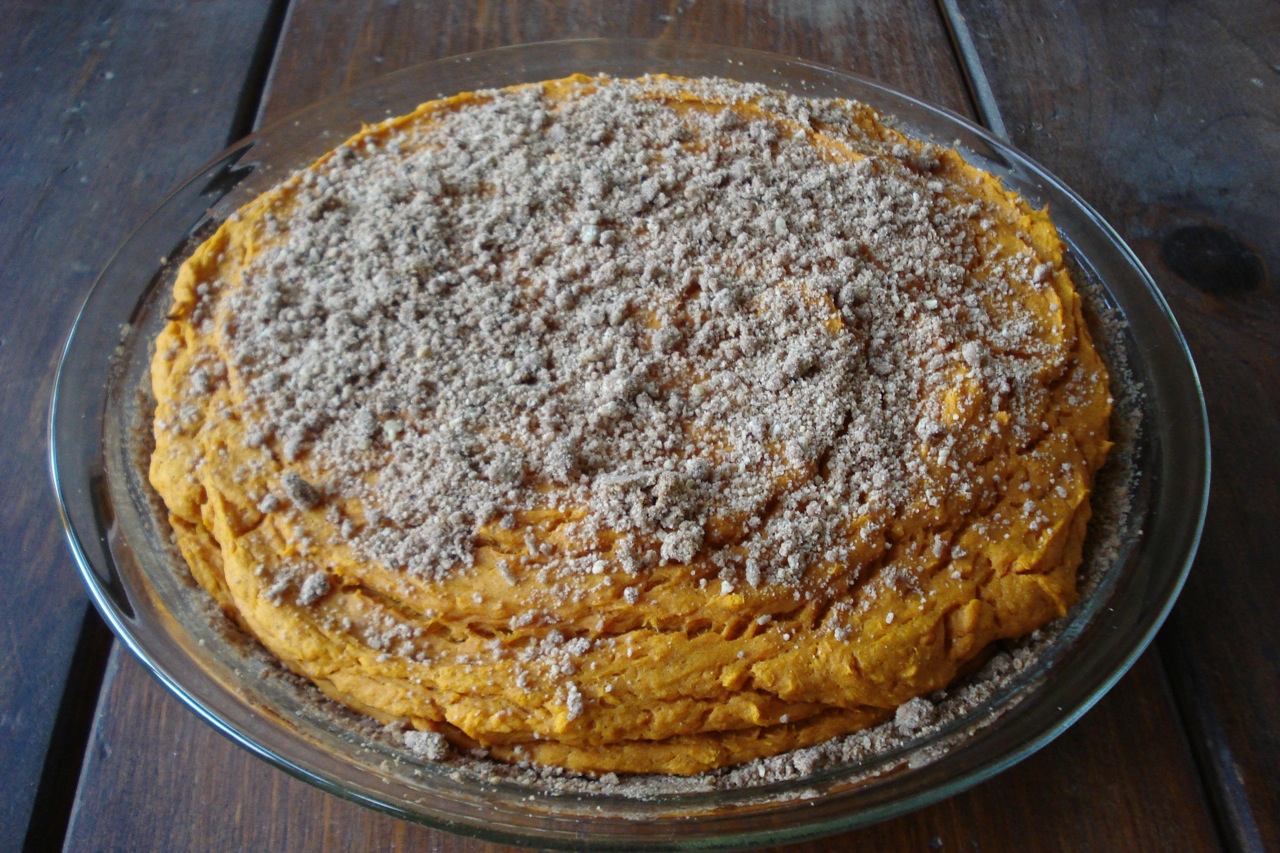 For the crust

:

2 cups pecans, coarsely ground
1/2 cup whole grain flour
3/4 tsp cinnamon
1/4 tsp pure salt
3 TBSP coconut oil (or butter), melted
1 tsp maple syrup mixed well w/ 4 tsps water (or a few drops of liquid stevia)
Preheat the oven to 350.
Mix all the dry ingredients together.
Mix the oil & maple syrup mixture together and add them to the dry ingredients using a fork, until a moist, crumbly mixture is formed.
Reserve a few tablespoons of the crust mixture to sprinkle over the top of the pie.
Press the mixture evenly into an oiled 9 inch glass pie plate.
Bake crust for about 5 mins, then remove from oven to cool.
For the filling

:

5 & 1/2 to 6 cups, peeled, chopped sweet potatoes (about 3 large)
1 TBSP coconut oil, melted
1 large onion, diced (about 1 & 1/4 cups)
2 cloves garlic, minced
1 TBSP butter or coconut oil
1 well beaten large egg
1 TBSP arrowroot powder
1/2 tsp cinnamon
a few dashes each of allspice, nutmeg, and ground cloves
Preheat the oven to 350.
Steam the sweet potatoes until very tender (about 10 mins).
In a skillet, heat the oil & saute the onion & garlic a few minutes until tender.
Mash the potatoes until smooth.
Mix potatoes with the onion mixture and all remaining ingredients.
Place the potatoes into the cooled pie crust and smooth out the top with the back of a spoon.
Sprinkle reserved crumb mixture over the top.
Bake for 50 – 60 mins.
Cool for at least 5 mins before slicing.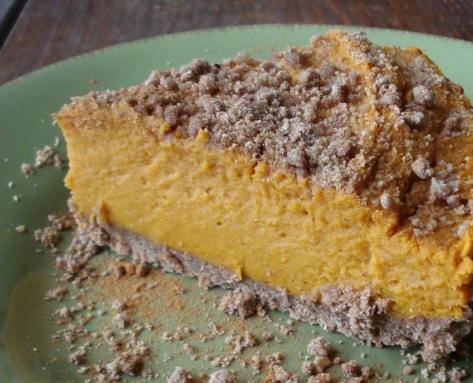 ______________________________________________________________________________________
SIDE NOTES

:

~ This can be breakfast, lunch, dinner, or dessert!

~ Can use ground almonds instead of pecans if preferred. You can also make the crust really simple by just using ground pecans and butter (or oil). Everything else is optional, but does add some very nice flavor. You can use a food processor to grind the pecans, though be careful because they'll turn into pecan butter if you grind for too long (which is very tasty, but not what you want for this recipe!). Use the pulse button to get it to your preferred consistency.

~ I actually puree the onions/sweet potato mixture in a food processor, only because my youngest isn't fond of onions. She likes the taste, but doesn't like to see them, so this works out well. Do whatever's easiest for you.

~ Arrowroot powder (a white powder) is an unrefined, gluten free flour used as a thickener. Cornstarch is a refined product that works in the same way and can be used as a substitute.

For those with various food restrictions

, this recipe falls into the following categories:

Dairy Free, Gluten Free, Egg Free, Nut Free, Sugar Free, Grain Free, Vegan, Raw

If eating dairy free, use coconut oil instead of butter.  If eating gluten free, use teff flour for the crust.  If avoiding nuts, can easily substitute a nut free crust.